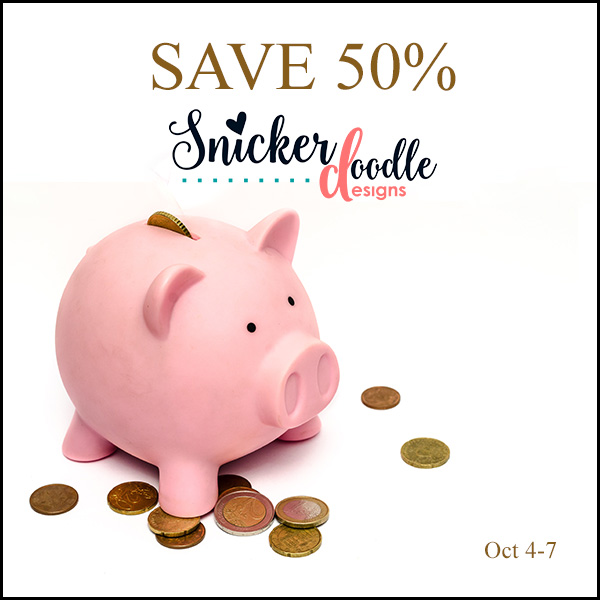 Yep! Digital Scrapbooking Day (DSD) is tomorrow, but the celebration starts now! I love this special time when we celebrate our scrapbooking passion!
One of the super neat things about DSD is all of the sales that are available for us to take advantage of. Yes, I said "us" because it's one of my favorite shopping days too!
Here are the DEALS I have for you!!
BE SURE TO READ CAREFULLY SO YOU CAN FIND SOME WONDERFUL FREEBIES AS WELL!
(This is the best time to pick up those products on your wish list!)
The 50% Storewide Sale has begun!
Sale October 4th – October 7th
(Collections and Bundles excluded from this Sale and Coupon usage since they are already highly discounted.
SAVE EVEN MORE when you use any of the following coupon codes: (VALID AT SNICKERDOODLE DESIGNS ONLY)
Save an extra 10% when spending $5 with the use of this coupon code: DSD2019EX10
Save an extra 20% when spending $15 with the use of this coupon code: DSD2019EX20
Save an extra 30% when spending $30 with the use of this coupon code: DSD2019EX30
Save an extra 40% when spending $60 with the use of this coupon code: DSD2019EX50
40% STOREWIDE sale October 4th -October 7th
Find both my Personal and Commercial use products
HERE
in my shop.
FREE Collaboration of your choice with every $15 purchase, October 4-7th.
50% STOREWIDE SALE
I have both a Personal Use and Commercial Use Store at Ginger Scraps and there are different links for each shop.SAVE 50% IN BOTH MY PERSONAL USE AND COMMERCIAL USE SHOPS
October 4th – October 11th
Receive the monthly Free with Purchase (FWP) with purchases over $10.
Receive the DSD Collaboration "Love & Chaos" with purchases over $20
50% Storewide sale October 4th- October 11th
FUN & GAMES: Be sure to take a look at the Challenges and Games here at Ginger Scraps!
50% Sale October 4th – October 6th
Visit MyMemories Facebook Page for Photobook Giveaways!
MyMemories is launching their NEW Calendar print product, so be sure to check that out in the store.
I HAVE TURNED A TON OF FREEBIES FOR YOU AT MYMEMORIES.

Some were Blog Gifts, some Store Freebies, and a few products that were NEVER freebies.
FOLLOW THE LINKS BELOW TO FIND THESE GIFTS!
If you are not a MyMemories Software user, no worries! Just download the ZIP file, which contains PNG and JPG formats!
Links will expire October 7th!
Color Outside the Lines Cluster
Countdown to Christmas Mini Kit
My Little Chickadee Quick Page
This is Me December Quick Page
And be sure to download this week's MyMemories Freebies too!
These freebies expire October 6th, so hurry on over!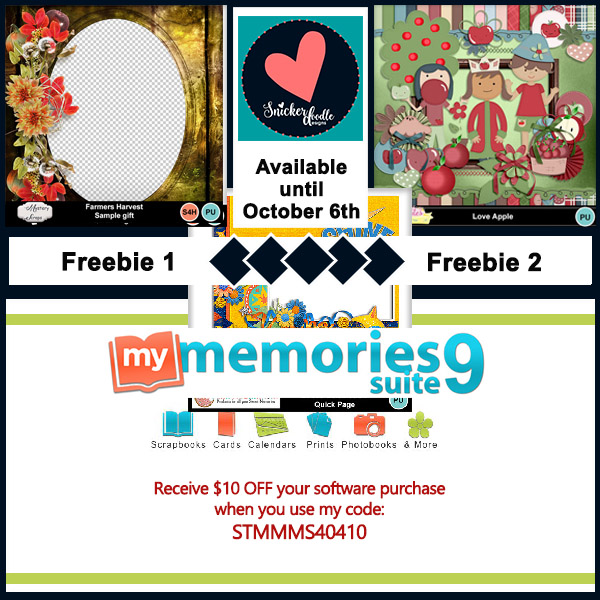 I wish you the best scrapbooking weekend ever!!!