It's Monday, so I'm back on the blog ready to inspire you with layouts made with SnickerdoodleDesigns' Collection: Garden Gate. This Collection can be found at either The Digichick or at Snickerdoodle Designs in the Attic Treasures section of the shop. It's available for an amazing price at 82% off and this sale never ends or at least not until the Collection retires. The Collection is packed and even includes three alphas as well as quick pages, frame clusters, journal cards and so much more. Just click the image to be directed to all the details and more photos.
I'll begin with this gorgeous page from Kabra. I really like the way she created the large frame. The shadowing is outstanding and the eye is directed to the sweet photo. The cluster is large and supports the theme of the page. I like the way she added the chicken wire behind and scattered the paint on top.
If you would like to duplicate this gorgeous layout, Karen has made it easy for you by including it as a quick page in the Collection. The stacked papers perfectly frame the photo spot. The muted colors are timeless and the cluster, including the tied wooden heart, adds vertical interest. There's even room for journaling on the top paper strip if you so choose.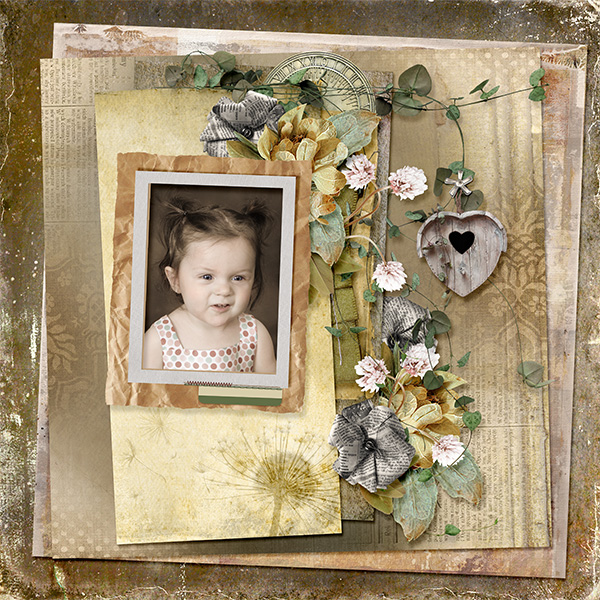 I love the scene created by Norma in this layout. The child is perfectly extracted which always impresses me. Everything in the scene is actually included in the kit. The blended brick paper is the perfect backdrop and all the elements are placed so it appears the child is actually playing in the grass. I like the spider dangling from the top of the page adding to the realistic look of the layout.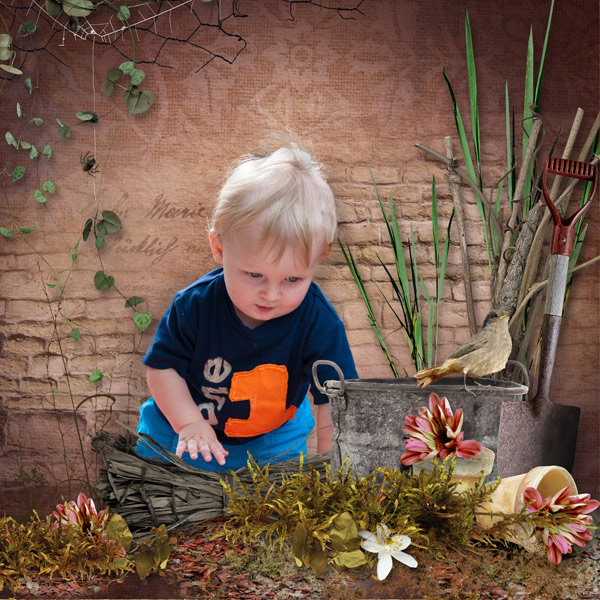 Such a pretty monochromatic page from Robyn. I like the way she placed the photo behind the two parts of the wooden fence and then created a scene around it. By converting some of the vines to grayscale she maintained the monochromatic look of the top half of the page.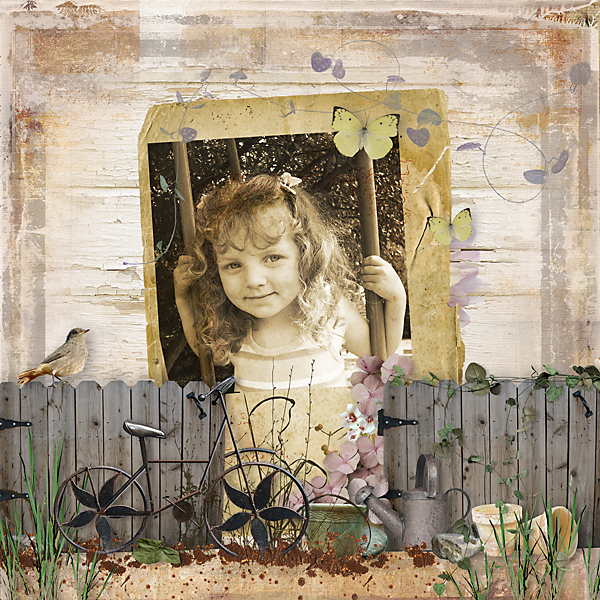 No one can resist the face in this layout by Linda. I like the way she converted the photo to black and white to work better with the black brick paper. The pretty floral paper added at a diagonal supports the gorgeous cluster. The burlap strip adds texture and the single horizontal vine adds interest to the page.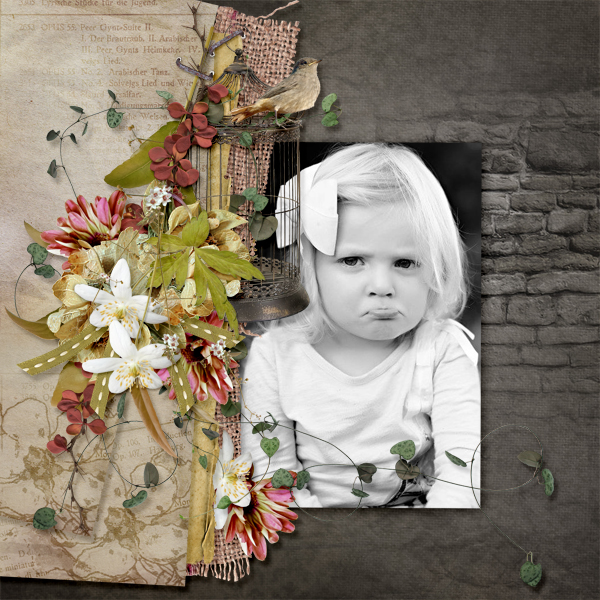 I've come to the end of my post hoping to have inspired you. Once you check out Garden Gate and its low price, I'm certain you will want to add the Collection to your stash. Thanks and have a great week!