Today I'd like to introduce you to Cathy Vernon, one of my long-time Creative Team Members. You may know her as britnkaysmemaw2 in the forums.
I asked Cathy to tell us a little bit about herself, and this is what she said:
Where do you live?
Belleville, IL (20 miles from St. Louis, Mo)
Are you married?
Yes, 47 years in October – Hubby is Retired Air Force so we traveled the US for 20+ years.
Kids?
3 daughters, all grown with families of their own. One lives next door to us, another in South Carolina and the youngest in Miami, FL. We are scattered all over!
GKids?
3 granddaughters, 1 grandson, and 1 great grandson.
When did you start digi-scrapping?
2007 – Got a call from a friend telling me she just discovered something and thought I would love it. She was right! Hooked instantly!
Were you a paper scrapper before?
No.
When did you start CTing and why?
Probably
around 2010 Why – Loved getting to work with different designers' products and help promote them.
What is your favorite part about CTing?
Being a part of a team that works together to make the designers work come alive!
Your favorite layout?
Any layout with my grandkids is always a favorite. They are my heart and soul!
Your favorite design style?
I would say it was Traditional. I was never an Art Journaling type of gal, but I have come to LOVE the new artsy papers. They give such a unique feel to your layouts.
Hobbies and other interests?
I am the ST Leader at GoDigitalScrapbooking, that keeps me busy. I am also part of the Admin Team for High Touch Social. And in my "spare" time I work as an Office Manager/Tax Preparer from January thru April, the high traffic time for tax preparation. It is great to work only a few months out of the year and have the summer to spend time with my family!
When I was formulating the idea for my latest collection, "Pass it On," I talked to Cathy about it. I originally intended it to be a kit more focused on the Rock Painting Kindness Project. Coincidentally, Cathy was going to be rock-painting with her grandchildren that weekend, so I asked her to take pictures of the process.
A few days later I received this email from Cathy:
Well, it was an experience! Well received by the grandkids, but Grandma wasn't as prepared as she should have been. I thought we had bottles of acrylic paint, only to find out my husband had thrown them away! Men!!!! LOL So we ended up using water based paint, which did not work well on the rocks. The kids though had fun, but their level of rock painting is nowhere near the book! Tiana painted a cat (the one with the pink and blue dots). Noah got creative and asked me to find a picture for him of Wilson (the volleyball from Castaway with Tom Hanks). He did a very good job of making it look like that!
Day 2 of painting…..with correct paints….. they ended up painting birdhouses. (97 cent kind you find in the craft department of Walmart or Michaels.)
They were just as happy painting those as the rocks.
So, moral of the story is……it's all about spending some quality time with your grandkids…..whether it be painting/hiding/finding…….it is all creating precious memories!
And so, with Cathy's words reverberating in my head, I expanded "Pass it On" to not only incorporate rock-painting but other skills and hobbies that we can share with and teach to our children, grandchildren, or others.
Cathy is an invaluable part of my team, and I'm so glad to have her as a team member!
Here are just a few of her lovely layouts!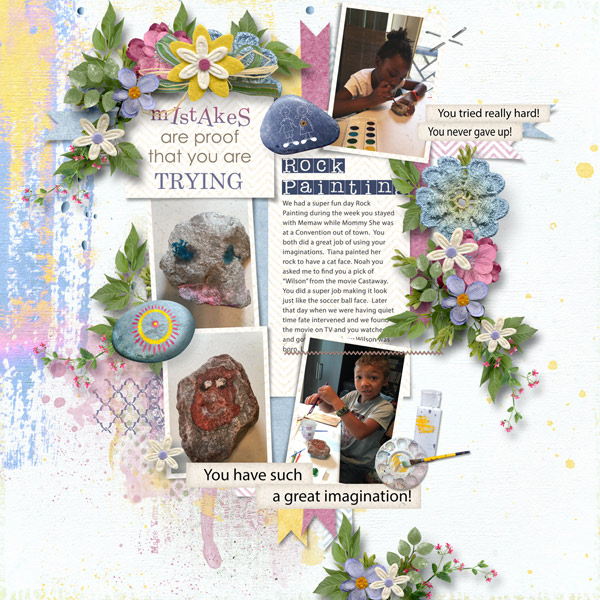 Created with "Celebrate Life"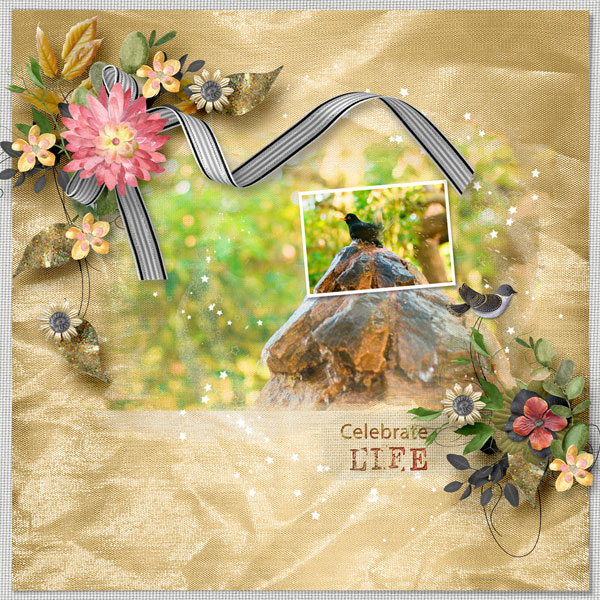 Created with "Chart Your Course"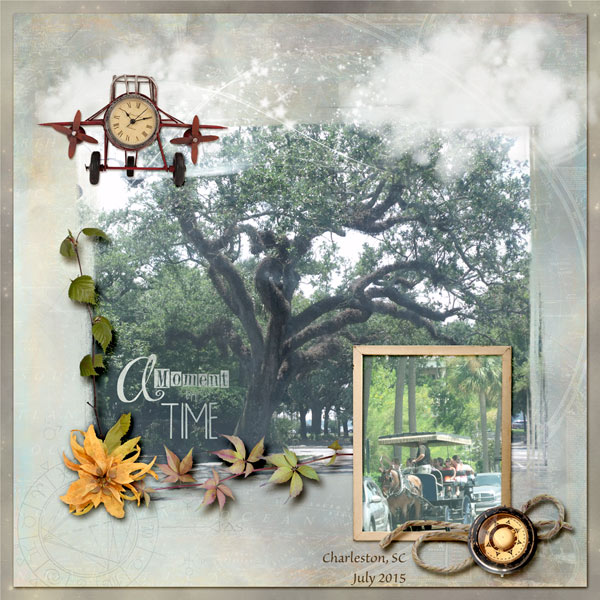 Created with "You are a Masterpiece!"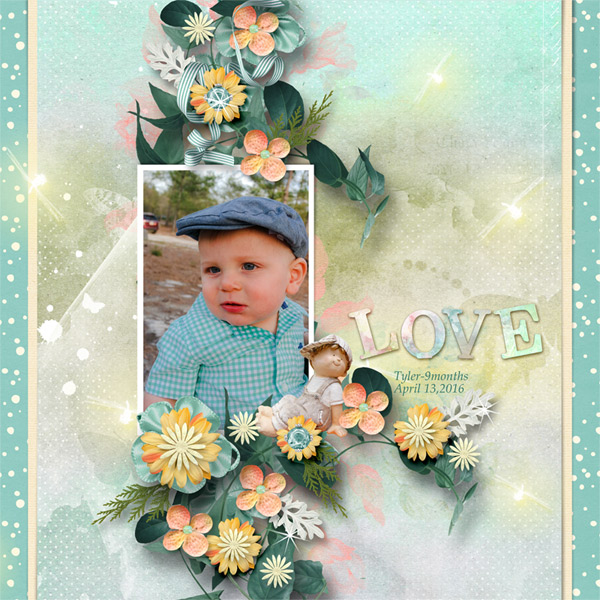 Thank you, Cathy, for sharing your talents with us and for inspiring us with your creativity!