Hello and happy Monday. It seems only fitting that I'm here to bring you some inspiration from layouts using SnickerdoodleDesigns' Trick or Treat Collection since Halloween is only a few days away.
Trick or Treat Collection is available at:
SnickerdoodleDesigns Gingerscraps Oscraps My Memories
No Halloween photos–no problem. This Collection is packed and can serve all your autumn scrapping needs. If you are familiar with Karen's collections you know they are full of papers and elements and, while sometimes themed, can serve your needs in other ways as proved by this layout by Rochelle featuring two of her adorable children. The masked photo is great and I like that she kept it large and placed her title in the empty corner. Her cluster across the bottom is delightful and the trail of gold-flecked leaves down the side of the page definitely speaks of autumn. I like the bits of spiky foliage just peeking up out of the cluster.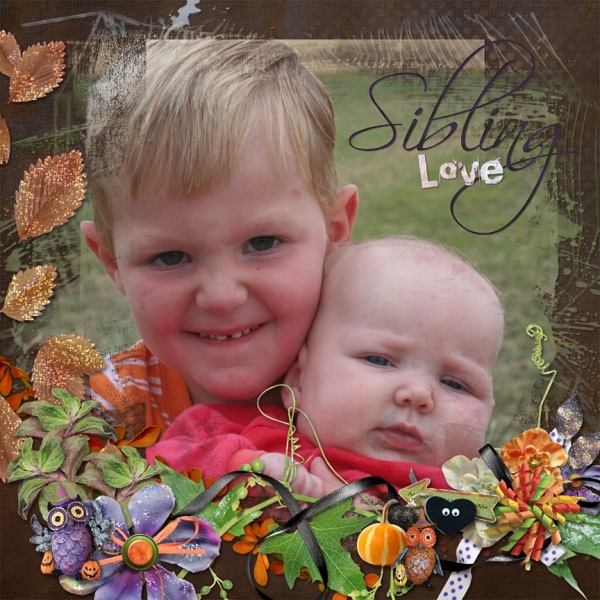 This layout by Kythe would make a lovely piece of Halloween decor. She framed the adorable, vintage clip art and made it the focal point of her layout. The background paper she chose is ideal for her masked art and delicate cluster.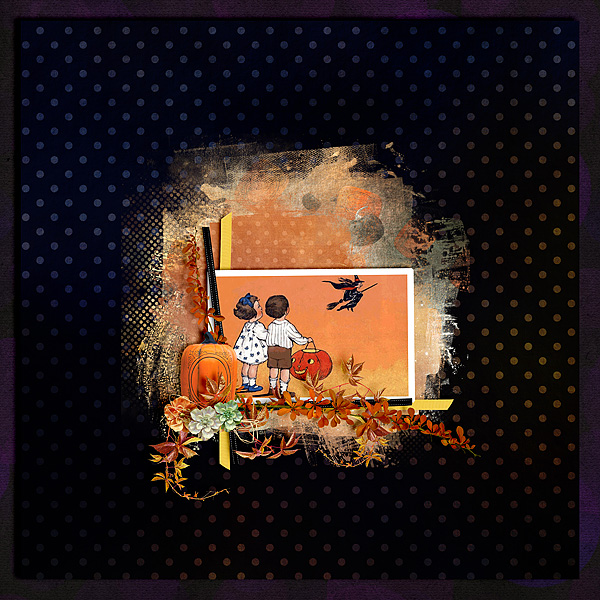 I really like the selective recoloring in the masked photo of the owl in this layout by Norma. Repeating the owl theme with the owl elements is very creative. The brick wall and tucked journal card make an ideal shelf for the photo. The clusters in opposite corners lead the eye diagonally across the page. The bead scatter and light sparkles complete the page flawlessly.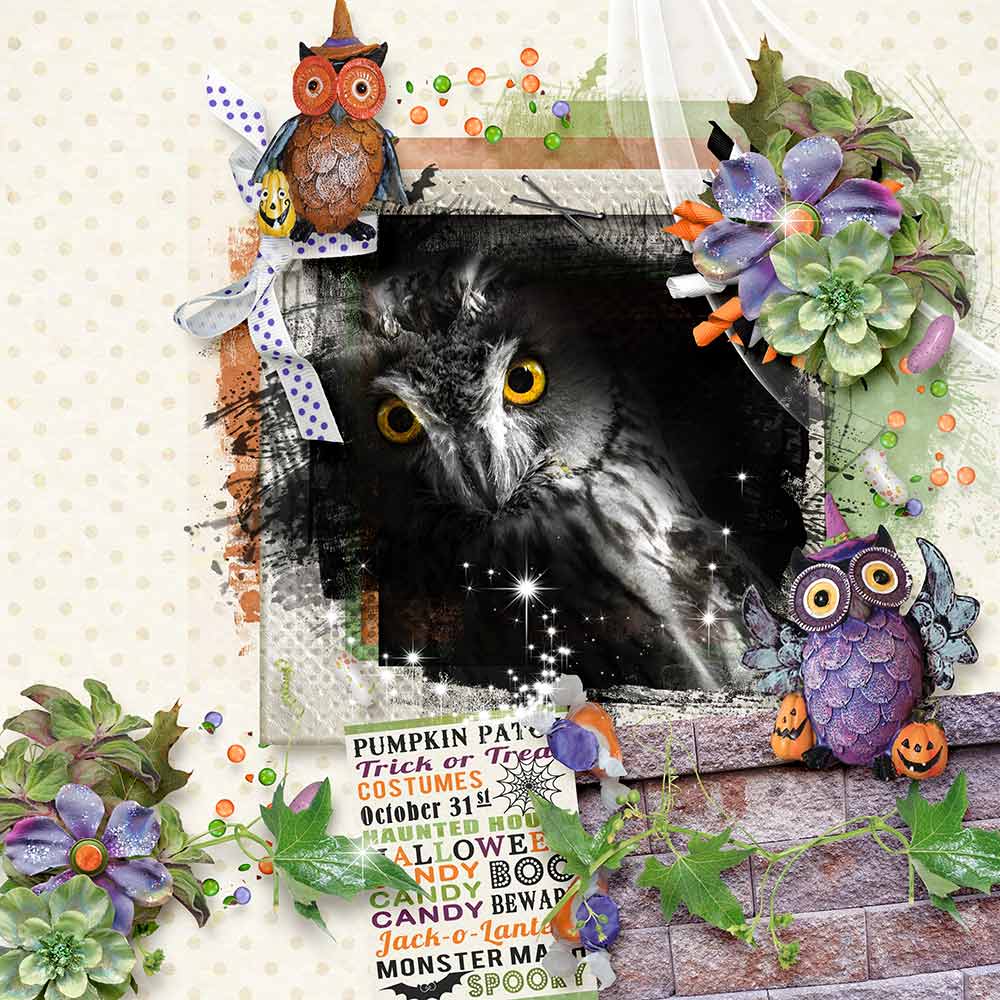 The composition in this layout by Deanna really shows off the Halloween costumes of her grandchildren. I like the way she sandwiched the framed photos between the clusters of elements. The sparkly leaves really shine and the journal card is tucked into the perfect spot.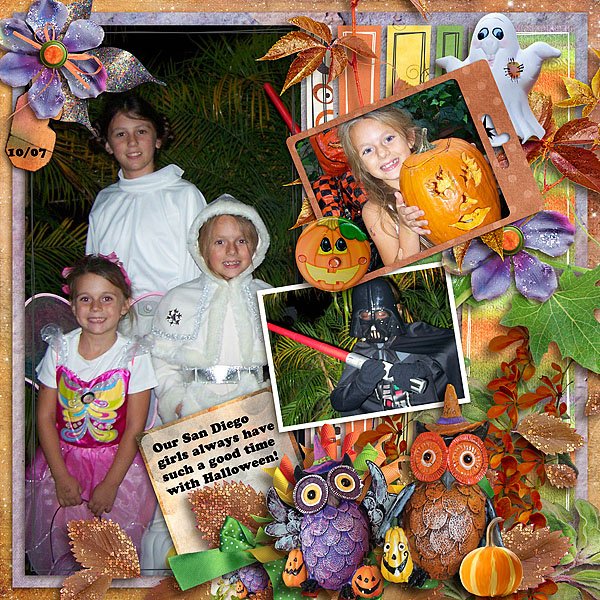 The diagonal design in this page by Cathy is striking. I like the way she tucked different shaped papers behind the photos and placed the journal card in line with the photo. The arrow points us into the layout and the title is very clever. The o's look like eyeballs and the glitter style really makes the title pop.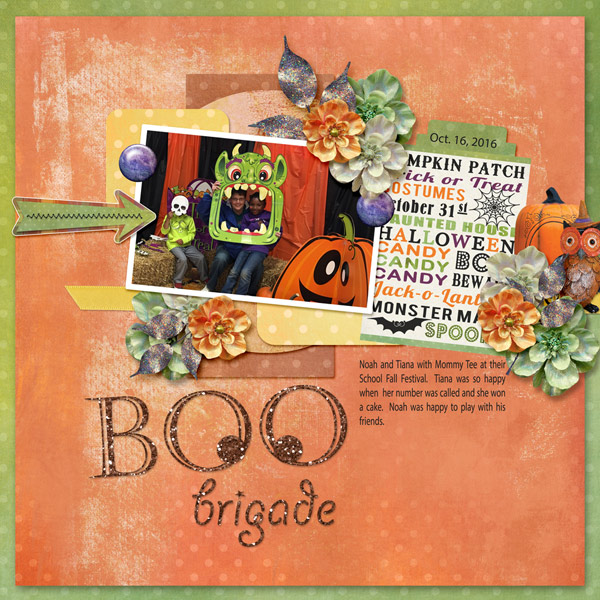 This page by Kabra has a very unique design. I like the way she stacked and rotated not only the papers but the frames as well. The rosettes tucked behind the frames move the eye around the page on three sides while the large cluster at the bottom completes the circle.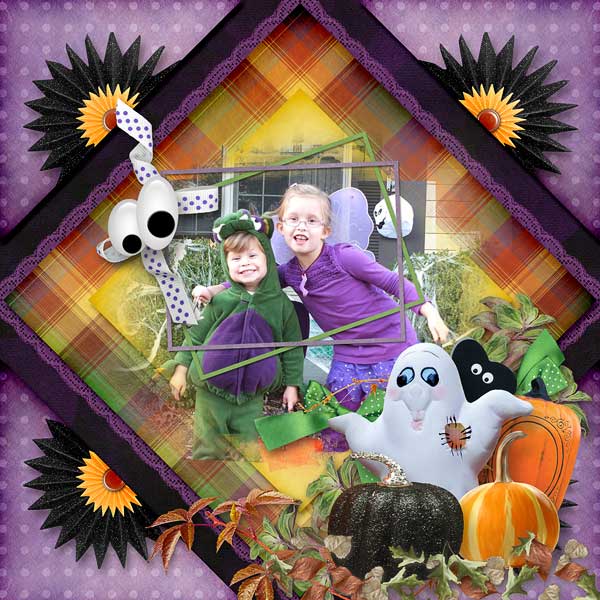 I hope I have inspired you with these gorgeous pages. May you have a creative week, one that is filled with treats and not a single trick.