Hi all, Beatrice here! I've spent the last few days with my two-year-old grandson while the rest of his family headed up North for some winter fun. I was too busy to write my Monday inspiration post so I asked Karen if I could write a quick mid-week post.
Do you ever have a large number of photos you would like to scrap and do it quickly? If so, the Droplet Template Series will help you get those photos off your computer and on to your scrapbook pages where everyone can view them at their leisure.
You will find the new Droplet Sets available individually, and at a special sale price with the bundles being the best value.
Find the Droplets at:
SnickerdoodleDesigns The Digichick theStudio
If you are not familiar with these templates, Karen has a couple of tutorials on her blog. You may watch a short instructional video HERE, and HERE is a second video that will give you some tips on how to get the most out of your Droplets (or any templates).
Here is an example of a gorgeous double page layout by 6grand. For her layout, she combined two of the templates from Droplet Templates 4 with the I'll Be Home for Christmas Collection. I really like how well the two sides work together. The layout manages to showcase quite a few photos without looking cluttered. The border down the center with the small added cluster divides the page and balances the remaining floral clusters. Placing some of the kit embellishments in the template spots is a creative way to supplement the photos and fill the spaces on the page.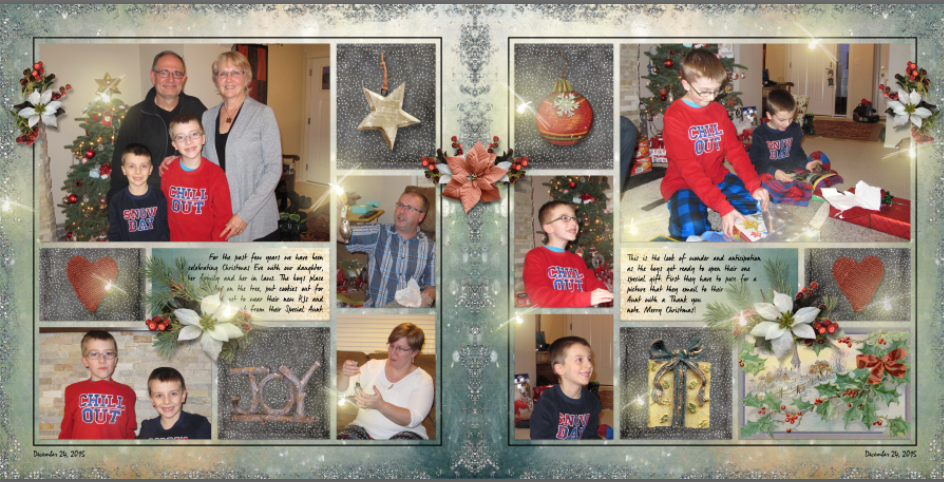 I was inspired to experiment and do a layout myself of my husband and grandson conspiring to create valentines, while carefully keeping the project a secret. For my layout I used Droplet Collection 3 and My Heart Lives Here Collection, both by Snickerdoodle Designs. I really like how quickly the layout came together. I chose two of the droplet templates and placed them side by side on one canvas though you could create each side individually. I think any of the templates would work well together.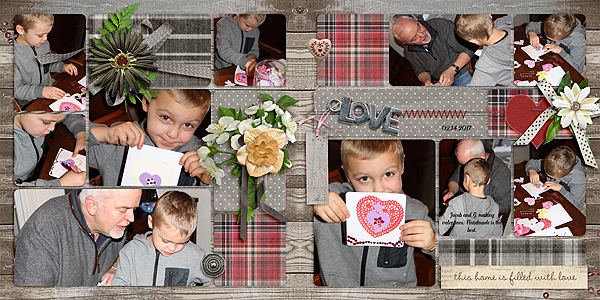 After I completed my layout I realized one way to create a polished layout quickly would be to add ready-made clusters after placing your photos and papers on the layout. Most all of Snickerdoodle Designs' Collections include a set of pre-made clusters. Karen has the perfect tutorial to help: Stretching your Digi-Stash with PreMade Clusters. I'm definitely going to try this the next time I find myself with too many photos and too little time.
I hope you have been inspired by today's post to move those photos off your computer and on to your pages. Thanks and enjoy the rest of the week!