One of the many good things about spring is that without it, without the absence of colorful flowers, chirping birds, gentle breezes, and rolling hills of green, we might fail to appreciate the beatify around us. So much of the wonder of spring is found in the return of what was absent. Spring-a-Ling is filled with all of the things that remind us of spring: a sparkling sun and raindrops, a colorful rainbow,a sweet little lamb and whimsical birds; butterflies and balloons; and all you need to scrap your gardening projects.
(paraphrased: Rundy)
This is the inspiration behind my newest collection, "Spring-a-Ling."
"Spring-a-Ling" is part of the Hatchery Collection at The Digichick, where each designer used the same color palette and same general theme of "Spring" to create a collection unique to them
Packs are $2 each for one week only, so head on over and check them out. This is a great time to mix and match products from your favorite designers. Bundled prices offer even great savings!
Let's take a look at "Spring-a-Ling!" Besides the Kit, there are other fun packs to complete the "Spring-a-Ling Collection," and help you easily create your scrapbook pages!
Unique Alpha, created from wood scraps, embellished with kit elements.
Blendables! Place on background paper and use as they are; or experiment with Blend Modes to create unique effects.
Borders help make your pages come together in a snap!
And so do Clusters!
Word art helps set the tone for your pages!
Edgers give added dimension to you layouts. Use as is, or experiment with Blend Modes and/or Opacity.
A pack of dotted papers give you even more options.
Softly blended Watercolor Papers coordinate perfectly with the kit patterned papers.
And, finally, a Solid Paper Pack to round out the Collection.
Beatrice will delight and educate us on Monday with Layout Inspiration, using layouts from this kit, so be sure to come back there. In the meantime, here is just a small sampling of what my team, and that of the Digichick, has created with "Spring-a-Ling."
Thank you to Yobeth, Kay, Michelle, and Norma!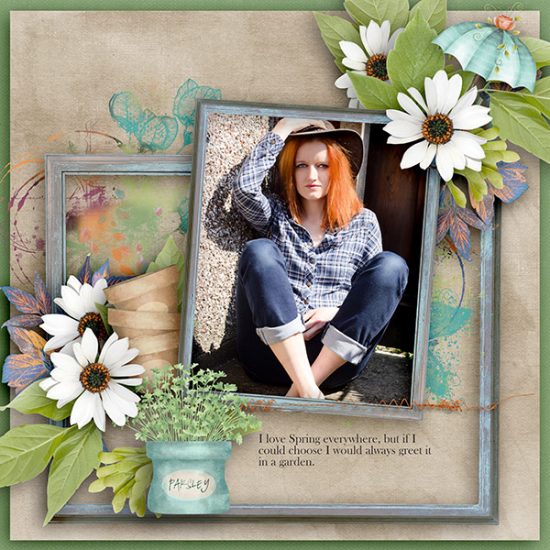 Yobeth was kind enough to let me lift her fabulous cluster off of her page, and give it to you! Just click on the image below to download!
Enjoy! I hope to see you back on Monday!