Can You Buy a Memory?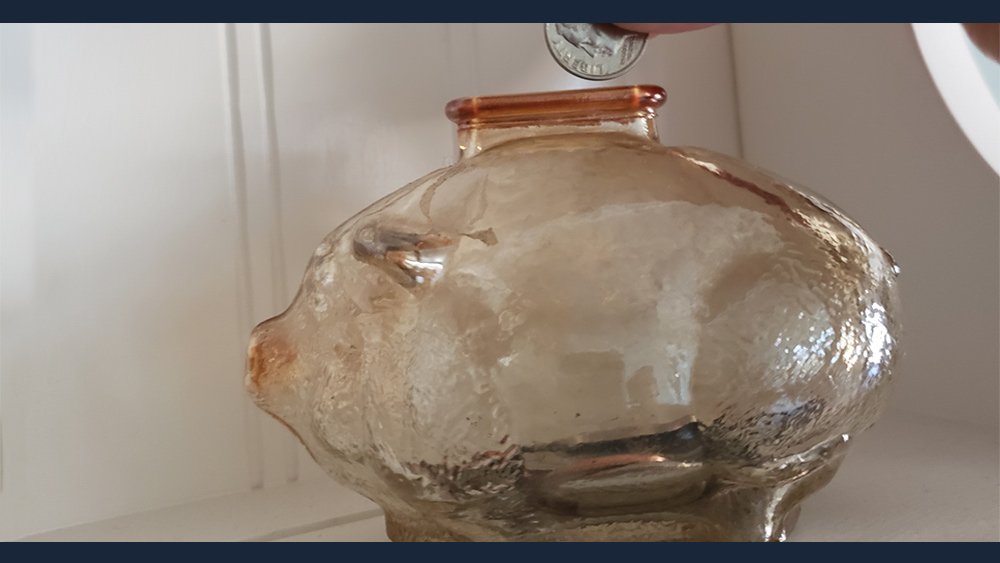 Can you buy a memory?
I think I was about 8 years old. I remember clutching my allowance in my hand and walking three blocks to the "five-and-dime" store.
I can still see, in that store, a shelf lined with glass piggy banks, that for some reason, captivated me. Maybe it was the pretty glass or the pig shape, or perhaps the price of the bank is all the money I had to spend that day. But I remember handing over my dime to the clerk and happily heading home with my purchase.
I used that bank for years. I remember turning it upside down and shaking it until coins came out, either to count my money or to go shopping with it.
I remember my brother breaking my piggy bank, accidentally, and going back to the store just hoping they were still selling them. They did. And I bought another one.
What happened to that bank, I don't know. At some point in my life, I guess I didn't think I needed it anymore and gave it away.
Last year, at a flea market, I saw a glass piggy bank, just like the one I used to have. I snatched it up immediately. It now sits on a shelf in my bedroom, and I put "found" money in it. That is, money that I find in the dryer, on the sidewalk, anywhere it's not supposed to be. That's different, to me than just dropping extra change in. "Finding" money brings back a childhood joy, and putting it in my piggy bank doubles that joy. Every time I drop a coin in my bank now, these memories come flooding back, and I smile.
So can you buy memories? Yes, I think so. At least in this case I did.
---