Save those less-than-perfect photos with the use of Levels.
I am working in Photoshop Elements 2018, but this technique works in full versions of Photoshop in the same way.
Here is my original photo. I took it with my cell phone, with the light directly behind my dog, Stella. (She's in dire need of a bath and haircut, but I love the way she is sitting.)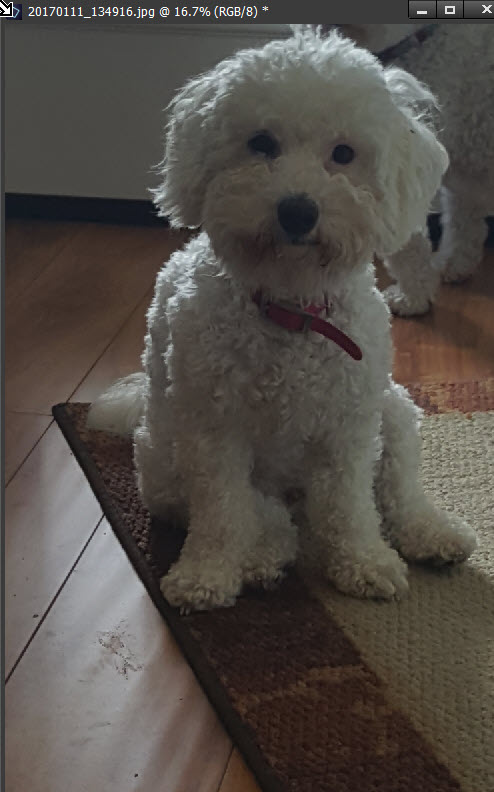 In Photoshop Elements:
In Expert Mode, in the Menu bar, go to Enhance / Adjust Lighting / Levels
In Photoshop:
In the Menu bar:  Image / Adjustments / Levels
Open the Levels dialogue box with the keyboard shortcut Ctrl L (Mac: Cmd L).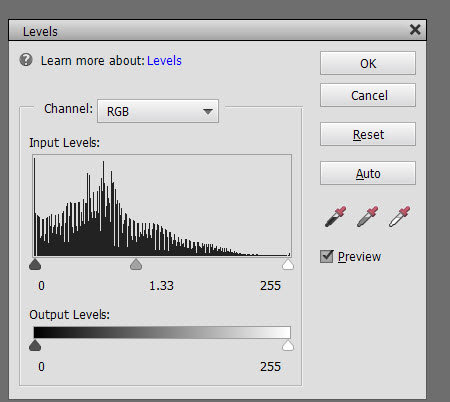 Our goal is to reveal more detail in both the darker and lighter areas of the image, then we will adjust the mid-tones.
We will be using the eye-droppers to set our white point and our black point.
Click on the white eyedropper (far right) to select it, and then click on the photo at the brightest, whitest spot you see.
Do the same with the black eyedropper.
I clicked on the really light, white part of the fur on Stella's hair, and on the black of her eye.
Tip: If you don't like the result you get, you can keep clicking on the image until you find a result that you like. Or Control + Z  to undo and try again.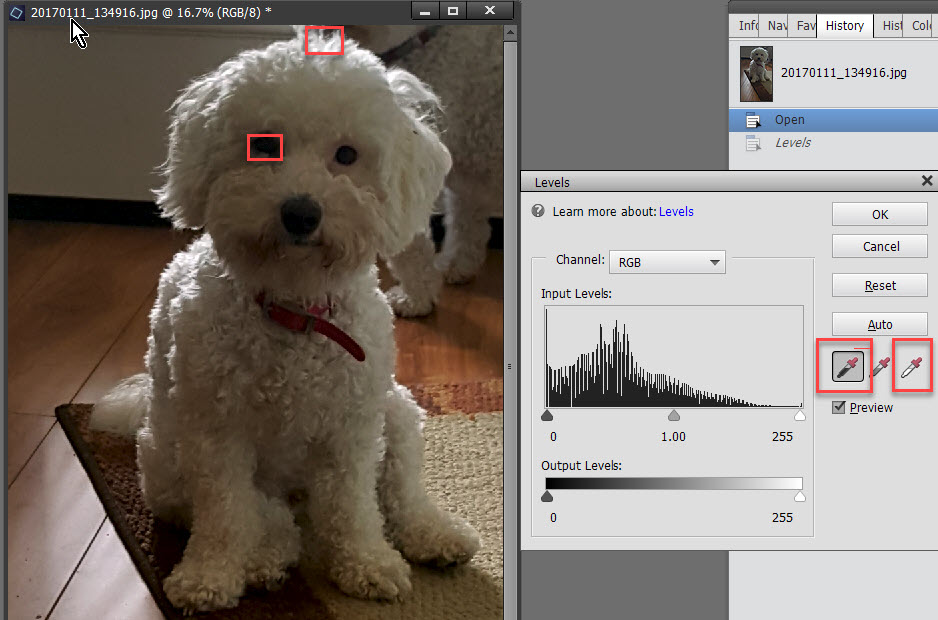 That definitely looks better than the original image, but now let's adjust the mid-tones. We do this by adjusting the middle slider in the Input Levels.  Move the slider to the left to make the mid-tones lighter, and to the right to make them darker.
I moved the slider to the left (1.33) and this was the result:  (This is not a magic number. The amount you move the slider will depend upon your photo.)
Definitely better!
I hope you find this helpful and that it is a technique that will help you rescue photos that you thought were hopeless.