Traveling by Train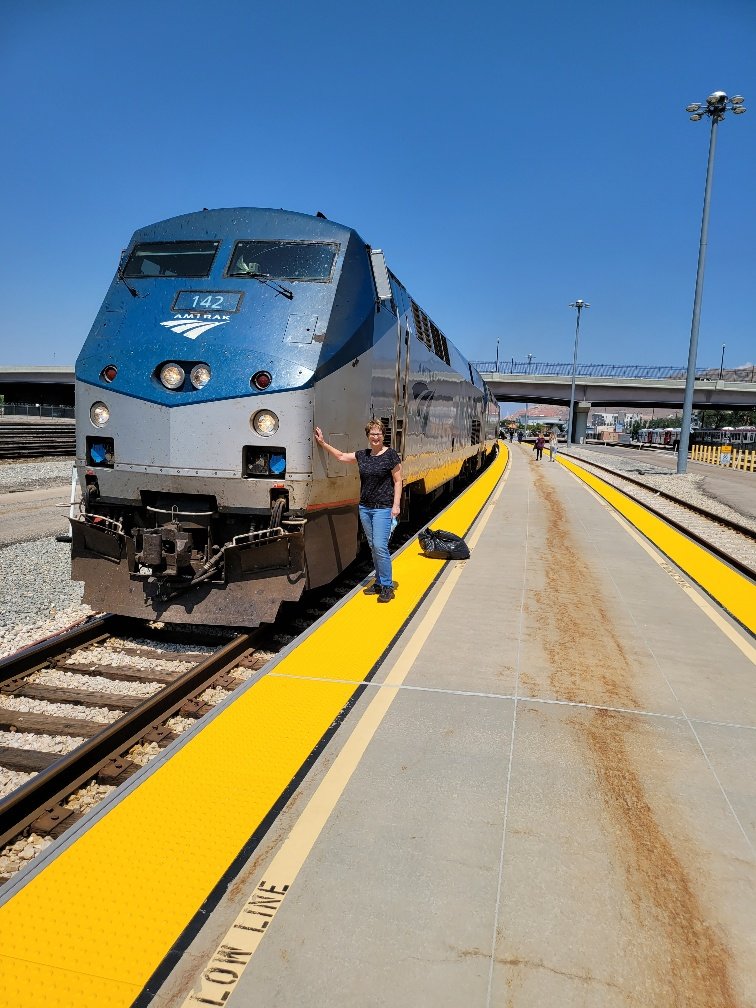 My husband, Rick, traveled across the country by train as a child. It was such a great experience for him, he has always wanted to do it again. So Monday morning of this week we boarded a train in Sacramento, California. Our ultimate destination was Detroit Michigan.
As I write this, it is Tuesday afternoon, and I'm sitting in a hotel in Salt Lake City, Utah. So what happened?
Boarding the train was fun. There really was a conductor standing by the entry door, saying, "Tickets, please." That made me smile.
We booked a Sleeping Car, which included a sink, a small fold-down desk, a chair, and a couch. The couch converted into a bed, and a twin bed folded down from the wall for sleeping. We also had our own teeny-tiny bathroom, which meant we didn't have to share a toilet or shower with anyone else. Although the room was small, it was comfortable. Not roomy, but comfortable.
The hallways were very narrow, just a little wider than my shoulders. For someone with a touch of claustrophobia, like me, just walking down the halls was a small challenge. But if I hurried and looked straight ahead, it wasn't too bad.
Sleeping, itself, wasn't all that great. I had a hard time getting to sleep because of the frequent starting and stopping of the train, and the train motion itself. I always thought it would be soothing, but… not so much.
As Sleeping Car passengers, our meals were included. The dining car was right next to our car, so it was a quick walk to get there. Breakfast, lunch, and dinner were served on linen table cloths, with nice china and silverware. We had a choice of 4 entrees at each meal, along with yummy desserts. The food was really quite good. Because of space, diners were asked to share a table with other passengers. We shared each of the 4 meals we had on the train with 4 different groups of travelers. It's always fun to chat with those you are traveling with
We knew that by taking a train, our travel schedule might be subject to delays. That didn't bother us because we weren't on a strict timetable.
And, wow, did we experience delays. We were delayed for several hours because a freight train that was traveling in front of us "broke down." We had to wait until the train was removed from the tracks before we could proceed. We experienced delays because a train bridge burned down in Oregon. Freight trains were being rerouted to the tracks we were using. This caused us to have to start and stop multiple times. (It is mind-boggling to think of all the planning that went into the re-routing of so many trains. ) We also knew there could potentially be an 8-hour delay in Colorado, because of mudslides.
The Conductor kept us appraised of the delays, the reasons for the delays, and when we could expect to continue our travels. Still, we were happy that we had decided to take the train. It was sort of like being on a cruise ship, but without entertainment or shore excursions.
Today, after a nice lunch, and a short stretch break in Salt Lake, we reboarded the train ready for a nice relaxing afternoon. Within minutes, the Conductor announced over the loudspeaker that the train route was ending in Salt Lake. We were asked to pack up our personal items and exit the train. That abruptly.
WHAT? ….We're supposed to be going to Chicago, then boarding a different train to Detroit. That's been the plan all along.
But the mudslides in Colorado…..
Hundreds of passengers exited, not knowing what they were going to do next, and, we were among them.
I was disappointed in the way the situation was handled. We were just left stranded. When we asked one of the train conductors what we could do, we were told that we could spend the night in Salt Lake and check tomorrow to see if the train had been cleared to continue. But with the storms continuing in Colorado, and our need to get to Detroit for a memorial service by Friday, that didn't seem like a good option for us.
So here we are, in a hotel near the Salt Lake Airport. We'll be catching a flight to Detroit tomorrow morning.
Train travel was fun while it lasted. Would I do it again? Hmmm… I'm not sure. I think it would depend upon where we were going, how long the trip would be, and we would definitely check the weather before making a decision.
I'll say hi from Detroit… assuming we make it there.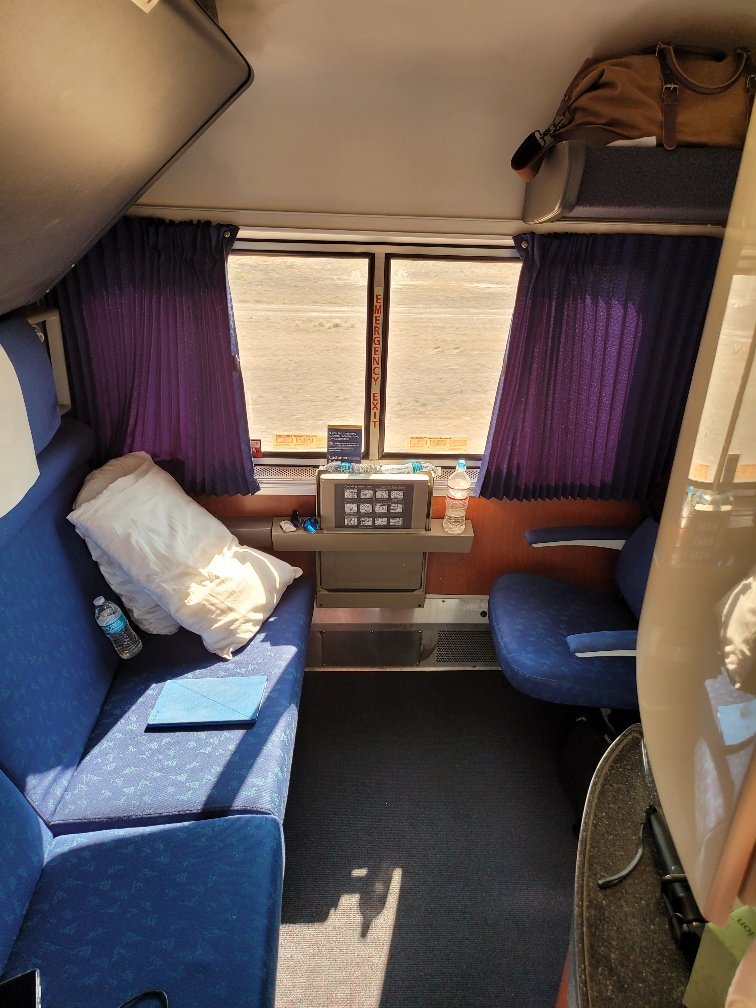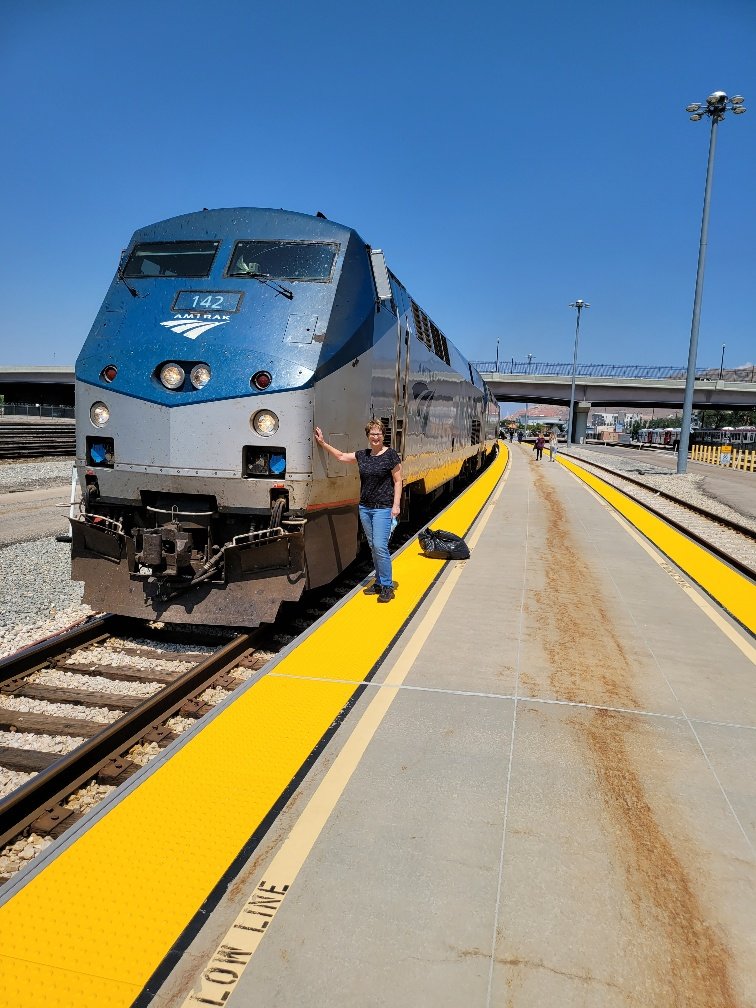 ---