What Does a Rattlesnake Sound Like?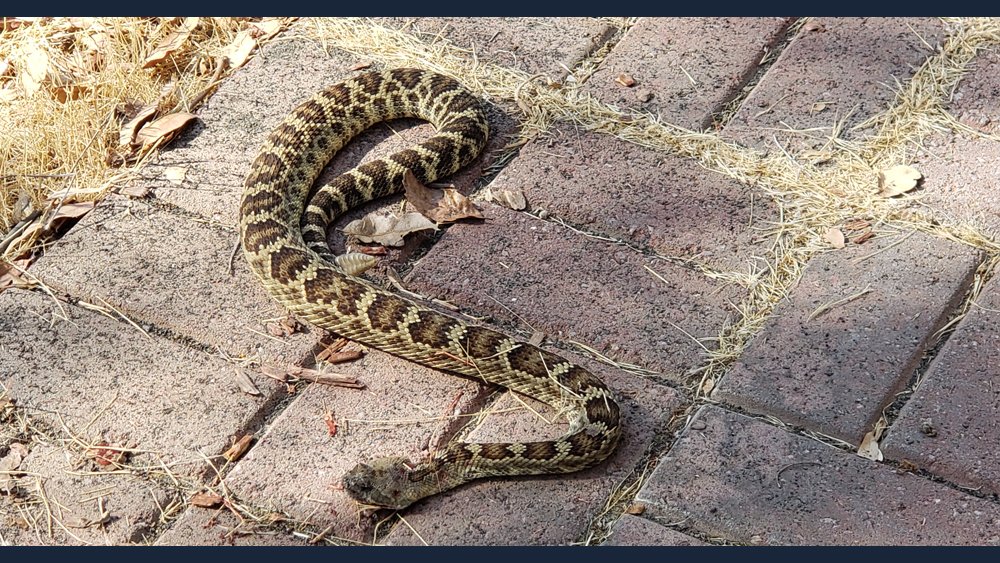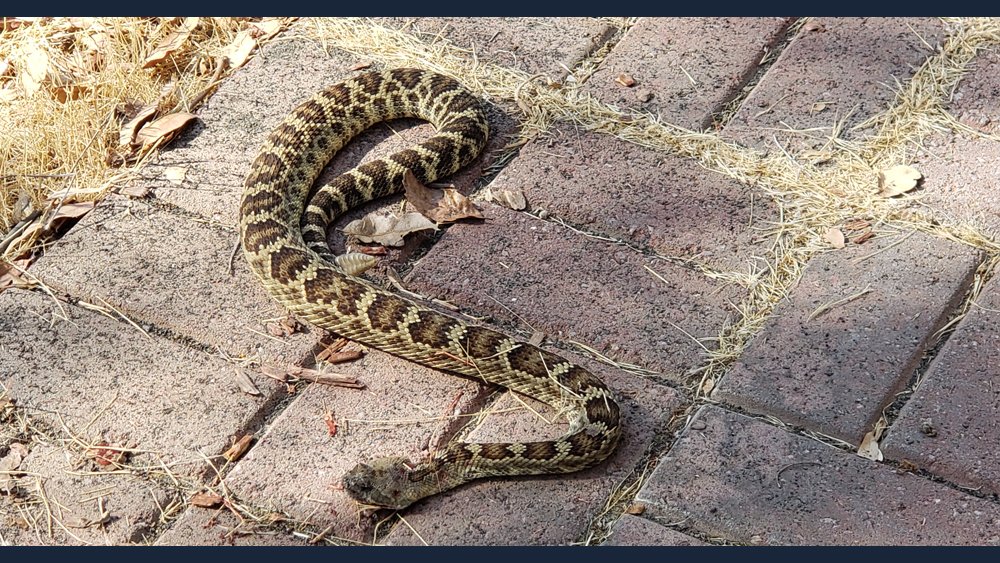 What does a rattlesnake sound like? If you would have asked me last week, I would have told you I don't know. I've heard it sounds like a rattle or a hiss.
Today though? Today I can tell you from experience it sounds like a cacophony of noise, not really a rattle, not really a hiss; and while it's hard to describe, it's unpleasant and I will never forget it.
Yesterday I was in my office, where I have a door that leads outside. I had the door open, but the screen door closed. I heard a strange noise, a disturbing noise, a noise I had never heard before. I looked outside and saw half a dozen birds flitting around and thought, perhaps, they were fighting or telling me that their food dish was empty. I opened the screen door and started to step outside. Something caught my attention. I looked down and right there next to my door jamb was a rattlesnake, that I was about to step on.
I slammed the glass door and called to my husband, "There's a rattlesnake here." I think that's what I said. I honestly don't know what came out of my mouth. I just know my heart was racing, adrenaline had shot through my body, and I was scared, as I watched the snake slither under a potting cabinet.
"Are you SURE it was a rattlensake?" my husband asked. I'd never seen one that up-close-and-personal, like in my yard, but yeah, I was as sure as I could be.
We watched and waited, but the snake seemed to be happy (safe) where he was hiding.
I am a country girl at heart, but I'm a city girl by experience. We didn't have snakes in Orange County, CA, (where I lived for all but the last 6 years of my life) except at the zoo. And the reptile cages are the ones that I made it a point to avoid visiting!
Fortunately, we had a painting contractor, Phil, here who has lived in the area all his life. By the time we had related the story to him, Mr. Rattlesnake was slithering from his hiding place onto the walkway.
No worries now. He's safely away from us. Or rather, we're safely away from him. I know there are those who say it's best to relocate a rattlesnake when you can, but we have 2 dogs and 2 small grandchildren that are coming to visit shortly. We couldn't take the chance Mr. Rattlesnake would find another cozy spot nearby. Phil "disposed" of him for us.
I confess this was traumatic for me. I didn't "settle down" for about 2 hours, and now before I walk outside I look and listen first. I imagine that need will subside as time goes by. I hope so.
But now I know. I know what a rattlesnake sounds like. And, believe me, I'll never forget it.
---