$3 Trash to Treasure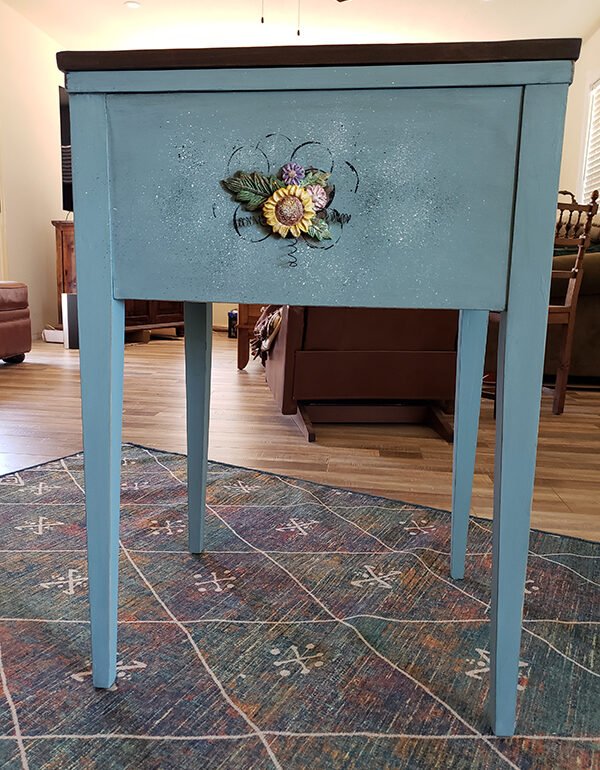 About a year ago I went to a local estate sale.  I immediately spied a small wood sewing cabinet that would qualify as a trash-to-treasure project.  It was in pretty bad shape, but it was only $3. I didn't know what I was going to do with it, but it was cute, even in its disrepair. At the very least, it would be a nice piece on which to practice a new painting technique.
I saw a metal placard inside the cabinet, which identified the piece as being a Sears product.  That made me think it was probably well-made, even though it looked very sad.

If I am watching a television program, I often want to be doing something with my hands. For months, I have been thinking about how to create a small work area for me in our family room. And this week I thought of the sewing machine cabinet. It is a perfect size. Small enough to fit where I want it to go, and with a little work it could be super cute. So I got out my tools and got started.
Once I started sanding the top of the cabinet, I realized there was a thin wood veneer over some beautiful solid wood. Why would they do that!!??  No matter… I would just have to remove that too. That was a harder job than anticipated. They used some mighty strong glue to attach that veneer!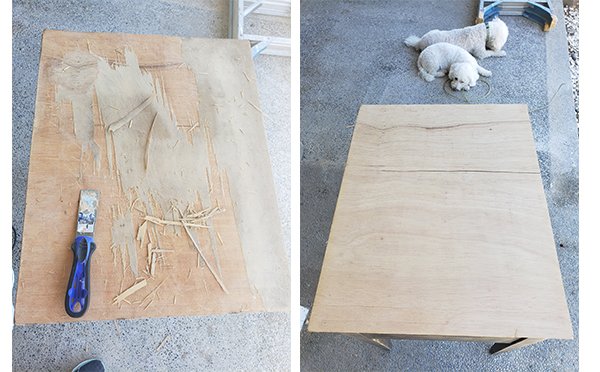 After removing all of the veneer and giving the top a good sanding,  I removed it from the cabinet, as well as an additional piece of wood that held the sewing machine in place. The hinges had been painted several times, as well as having had stains smeared over the gobs of paint. My favorite way to remove paint on metal hardware is to boil it in soapy water for a few minutes. The paint usually peels off fairly easily. Once I started removing the paint on these hinges, I saw that they were brass, so used a little Brasso to get them really clean.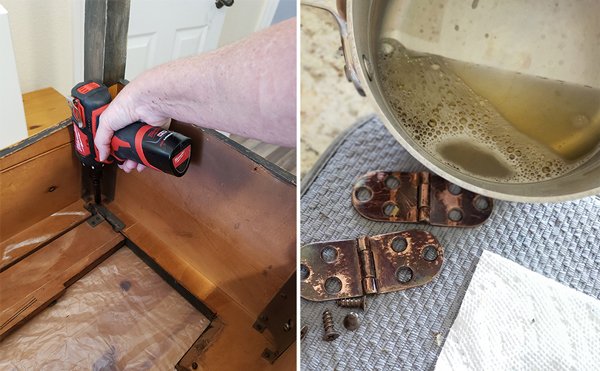 I decided to paint the cabinet, but stain the pretty wood top. I applied a wood conditioner to the part I was going to stain; this helps the stain absorb more evenly.
I painted the cabinet with Fusion Mineral Paint (Color: Heirloom), distressed the edges using sandpaper, then applied a black wax to the entire project.
The front of the cabinet looked very plain, so using some Iron Orchid Designs molds and air-dry clay, I made, then painted, some flowers and leaves. I dipped the top of a jar in black paint and stamped some circles on the cabinet front. After assembling the flowers, I curled some wire and stuck 3 wire "corkscrew" pieces in the little flower cluster to add a bit more interest. Next, I spattered the front of the cabinet with white and black paint.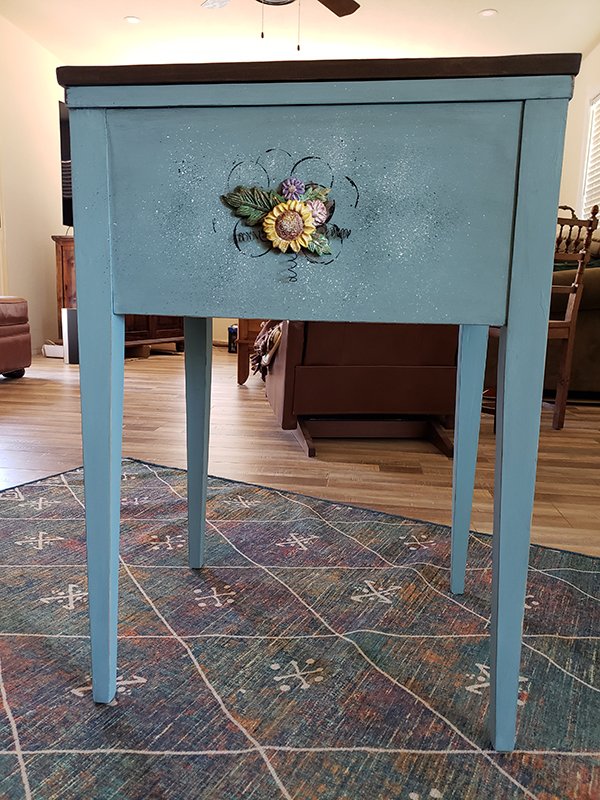 I added a piece of white laminate to cover the sewing machine opening.  Even though the area is small and not very deep, it will be perfect for working on small projects.
Look at those gorgeous shiny brass hinges!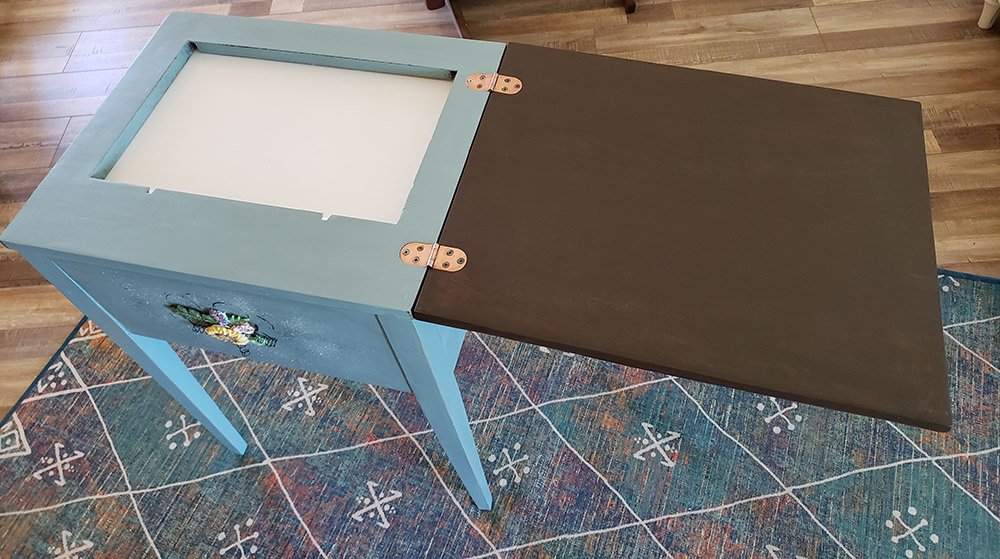 This is going to be a great little worktable for me, and it was a lot of fun to turn this sad little cabinet into something that is a pleasure to look at.
Now onto finding my next trash-to-treasure piece!
---