Digital Vintage Textures


Add Interest to Your Digital Projects By Adding Texture
The texture, folds, and stains that often accompany vintage papers can add so much character to your vintage-themed digital projects. My new Vintage Vintage Textures 05 were derived from personal letters written in the 1850s. They are perfect to use as-is for backgrounds, or anything else you would like, to infuse an authentic vintage flavor to your digital scrapbook pages or projects.
But here's the thing… you don't have to be creating something vintage-themed to take advantage of the beautiful characteristics of these papers. If that's you, then keep reading…..
Here's the secret. Blend Modes.
I'm using Photoshop CC for this tutorial, but this method works exactly the same in Photoshop Elements.
Here's How:
Open a Vintage Texture 05 Texture. (File > Open).
Open a Background Paper (one with muted colors o r solid colors works best).
This is what my Layers Panel looks like.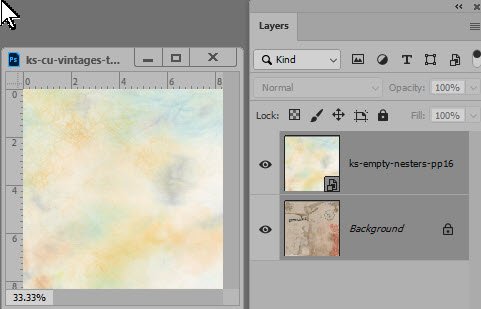 In the Blend Mode options, at the top of the Layers Panel, click on the down-pointing arrow to expand the Blend Mode List. Cycle through the Blend Modes until you find one that works for your project. (Need more instruction? My Blend Modes Explained tutorial on the Oscraps Blog should help.)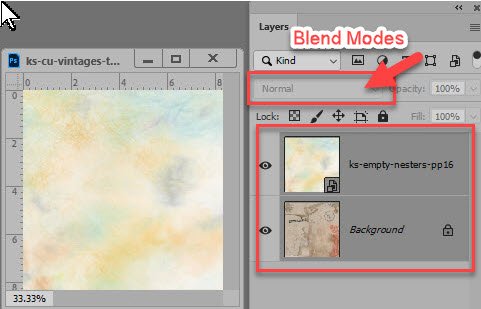 In this example: In the Layers Panel, I placed the Empty Nesters Paper #16 above the Vintage Textures 05 #5 texture. I changed the Blend Mode of the Empty Nesters Paper to Hard Light which allowed me to pick up the beautiful texture, stains, and stamped images from the Texture and see them on this lovely colored background paper.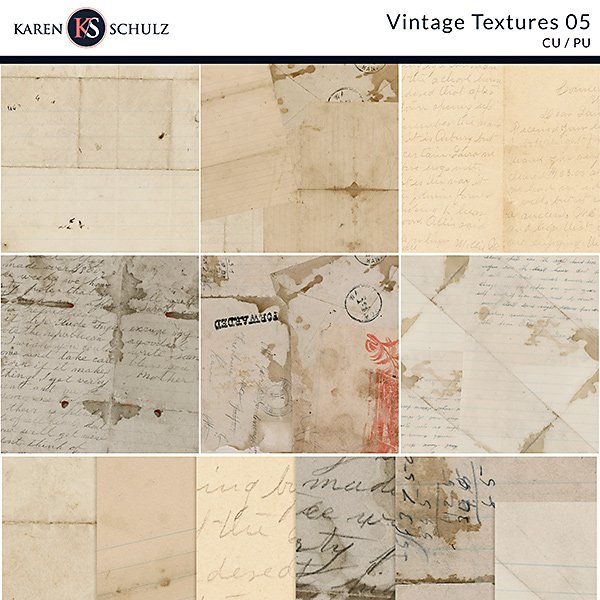 Experimenting with Blend Modes and textures is a lot of fun. You can't always predict what you will come up with, and experimentation often results in Happy Surprises!
Fine my Vintage Textures 05 digital pack at Karen Schulz Designs | Oscraps | Gingerscraps
---