Do you feel like a child?
Do you feel like a child when you are with your parents?  No matter how old you are, or how old they are?
This weekend our daughter, Jennifer, came to visit us. Alone. She left her husband, Trace, their 2 children, Tyler and Emily, and their 3 dogs, Ava, Hayley, and Lilley at home.  Why?
This was the last weekend before school started for Tyler and Emily. The last weekend she had for a time of respite before becoming the taxi driver, homework helper, social-media monitor, as well as all the other hats she will be wearing. If you have children at home now, or have had children home in the past…. you know what I mean.
Back-to-school is an exciting and fun time.  But routines change, there is less free time, and adjustments have to be made.  It's nice to start all of that activity rested and relaxed. And that is exactly what we did while Jennifer was here.  Well, sort of….
We did manage to go antiquing in nearby Clovis, where Jenn picked up a few things that caught her eye. I have to admit so did I.  Not that I need more projects.  We also visited our little town of Coarsegold and all of the shops in the village… as well as the Fudge Shack. (Yum!)  Unfortunately, we hadn't visited the bank before hitting the Fudge Shack, so the owner kindly accepted all the change we had for our small purchase. As we both poured out our change onto the counter, there was also a button, a rubber band, and a screw in among the change. She let us keep those things.
We ate pizza and watched a movie. Jenn slept late and finished a book she was reading.
We took her out to dinner one night.  We had to introduce her to our new favorite place…. the grill at the local grocery store where they make the best burgers!  Having had tons of restaurant choices so close to our home in Orange County, and having just a few choices near our home here, it always makes us laugh to go the "grocery store" for dinner.  Even so, as we were driving there, with my husband and I in the front and Jenn in the backseat, I asked her: "Do you feel like a child back there?"
"Sort of," was her quick response.
I smiled to myself. I was glad. That's exactly what I wanted for her. Freedom from responsibilities, even if for just a few days.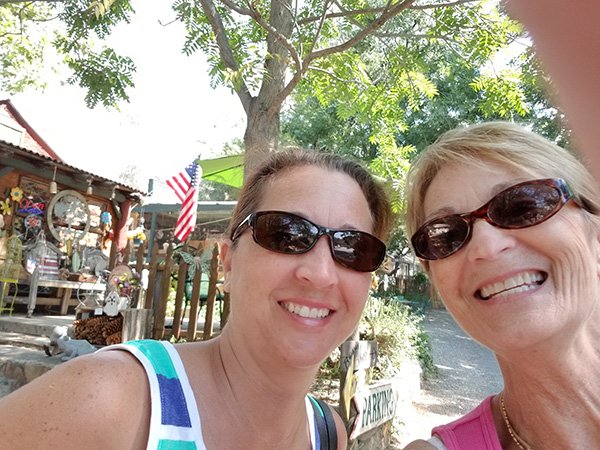 ---