Flea Market Flip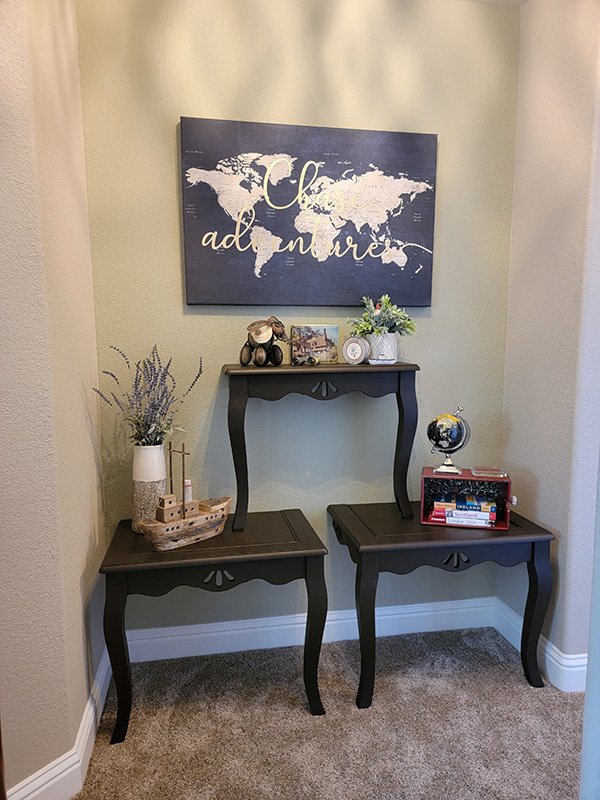 I am sad that Lara Spenser's Flea Market Flip television show is no longer on the air. It was inspiring to see Lara and the show contestants purchase items at a flea market, and then give those pieces new life. It also helped me think outside the box as I looked at my own flea market purchases.
Take this room divider, for instance. I found it on Facebook Marketplace for $40. I thought it was a great deal and a pretty piece… but I had no idea what I would do with it. Still…. I have a hard time passing it up. So into my work pile, it went. Then one-day inspiration struck. I took apart the shutters, painted them, and had them installed as shutters for the French doors in our bedroom. I know the photos are terrible, but you get the idea.
The chair in the lower right corner of the image above? It's another flea market find. $20. I sanded it and was going to paint it, then distress it. It was really dirty, with big paint chips peeling off… it was a mess. But after sanding it, I quite like the way it looked. I'm not sure I'll paint it now. I think I might just put a seat on it and call it done. Can you imagine carving all of that detail??? What an art!
About a year ago, I found 2 end tables… $10 on Facebook Marketplace. I had an idea. It's taken me a year to get around to it, but I finally finished this project last week. I had the end tables cut into pieces (1/3 and 2/3's). After I painted them, they found a new home in an alcove at the top of our stairs. I will be hanging photos from our travels on the adjacent walls and putting travel momentes here. I have to dig out a few more things to add. but you get the idea.
We purchased and moved into this house nearly 7 years ago. I didn't want to buy new furniture, but wanted to furnish it with unique pieces that I discovered and worked with. It's fun, and I enjoy it. The only thing is that it takes a long time. But at least my work pile is getting a little smaller. Now, I just need to find a new inspirational television program. I'm open to suggestions!
---