Is Having 3 Dogs Harder Than Having 2?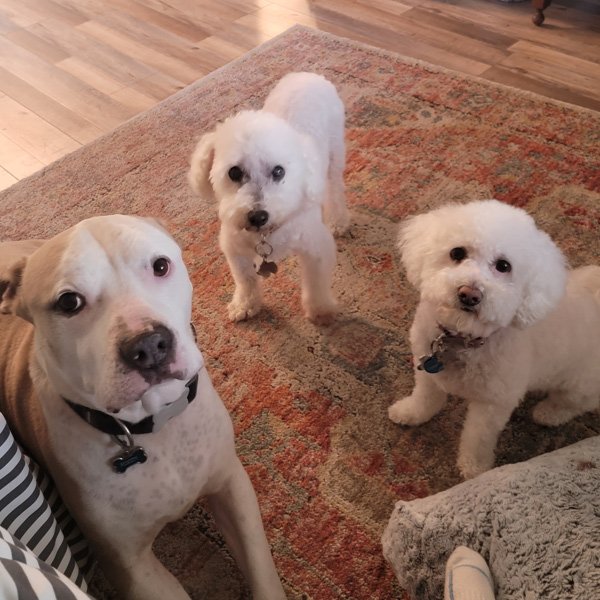 Once upon a time my husband and I had just 1 dog. We debated over getting a 2nd dog . (1 Dog or 2?) After much consideration, in 2016, we did adopt a 2nd Bichon, Stella. Riley, Dog #1, is on the right, and Stella, now Dog #2, is on the left. They love each other, play well together, and Stella's presence gave Riley, aged 10 at the time, new life.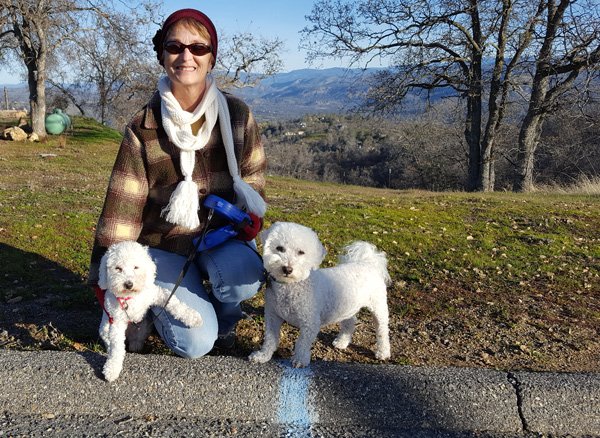 Last month our son and his family decided to remodel their house to update it, as they plan to put it up for sale. It would be a full remodel which would require them to move out of the house, into an Air BNB, for at least 2 months. As if that wasn't a big enough task to deal with, they needed to find "vacation homes" for their 2 dogs, Fozzy and Bailey, since the Air BNB doesn't allow dogs.
My daughter-in-law's sister took in one of the dogs, Bailey, and we took in the other one, Fozzy.
We've had Fozzy for 7 weeks now and will have him probably another 4-5 weeks. He is big. As in B.I.G. (Especially in comparison to our little 15-pound Bichons.) We've had the chance to evaluate whether having 3 dogs is more work than having 2. Our resounding answer is a big fat YES. Exponentially so.
Having 2 dogs is more than twice the work of 1 dog, but having 3 dogs requires way more effort than just x3. There are now 3 personalities, with interactions between Dog 1 and Dog 2, Dog 2 and Dog 3, Dog 1 and Dog 3… you get the idea.
So would we ever get a 3rd dog permanently? … hmmmm… the circumstances would have to be really unusual. Both my husband and I have to keep our guard up because we both want to take in every stray or cute dog that we see.
But I must admit that having Fozzy has been delightful and entertaining. As big as he is, he thinks he's a lap dog. Seriously. He tries to crawl into my lap even when I'm sitting at my desk.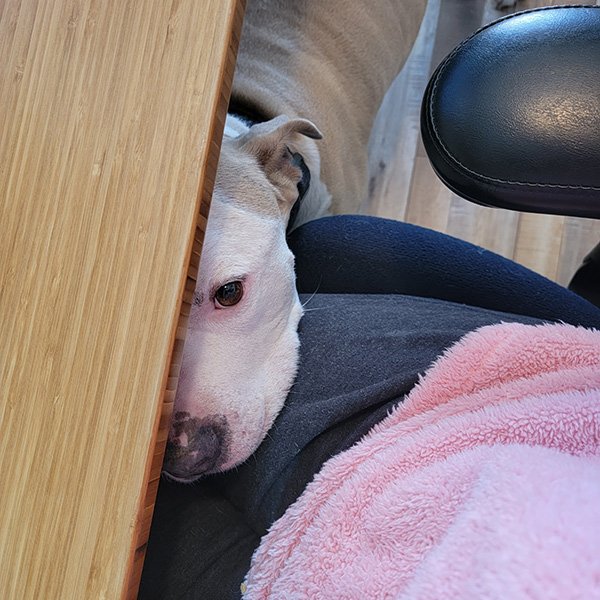 He has made himself right at home. He saw that Riley and Stella each had their own bed in my office and loved sleeping there while I work. He decided he needed a bed in my office too. He commandeered Riley's bed. It took him a while to get the hang of sleeping in a small bed, but he figured it out.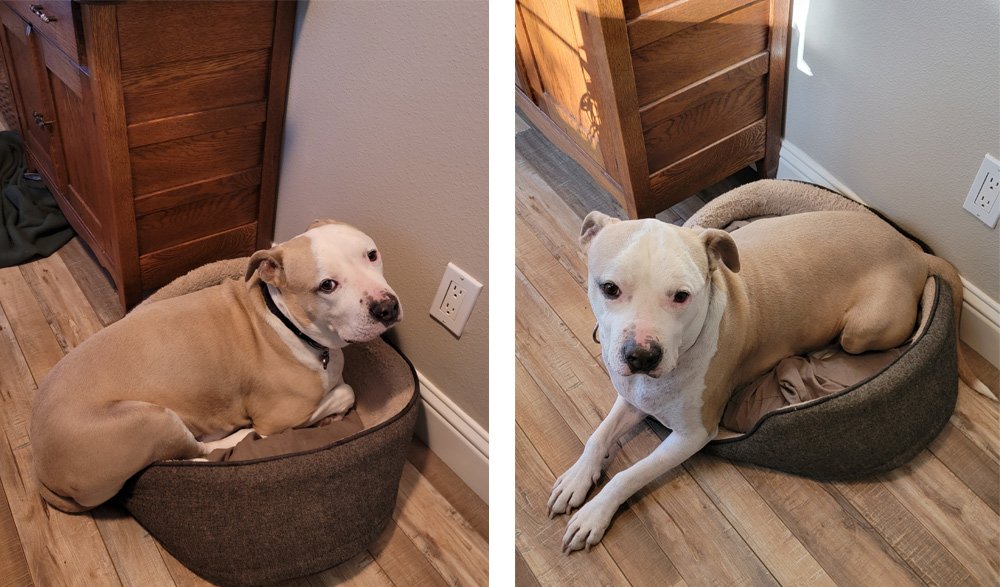 Of course, his "figuring it out" meant that Riley and Stella had to share.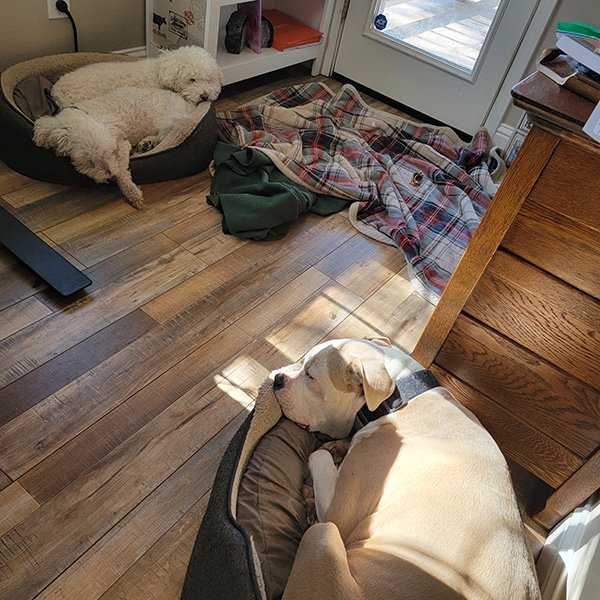 Being a Big dog, you don't always realize how intimating you can be to a Little dog. Stella has found a work-around for when Fozzy wants to play with her.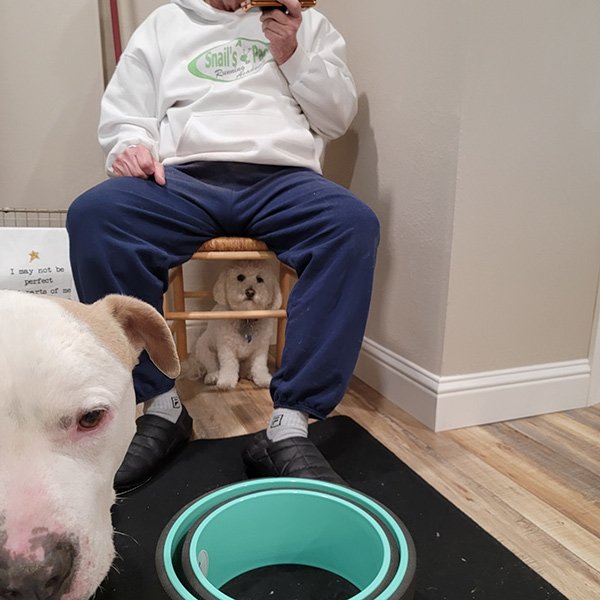 Fozzy doesn't seem to realize how much space he takes up. Stella LOVES laying outside in the sun in the mornings. Fozzy really infringes on that special morning time of hers. I love the look on her face here. I think she's saying, "REALLY?"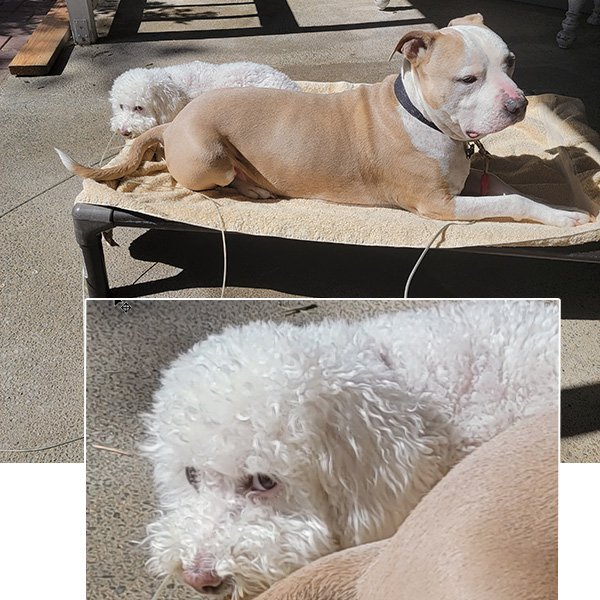 Fozzy is super needy. But then he's had a very hard life. He was passed from home to home several times before our son adopted him. Fozzy is the sweetest and the most well-trained dog (thanks to our son) that we've ever had in our house. But, yeah, super needy. Even the sound of a drill or saw doesn't deter him when he wants to crawl into my lap.
Fozzy has the greatest smile! How can I not love that face?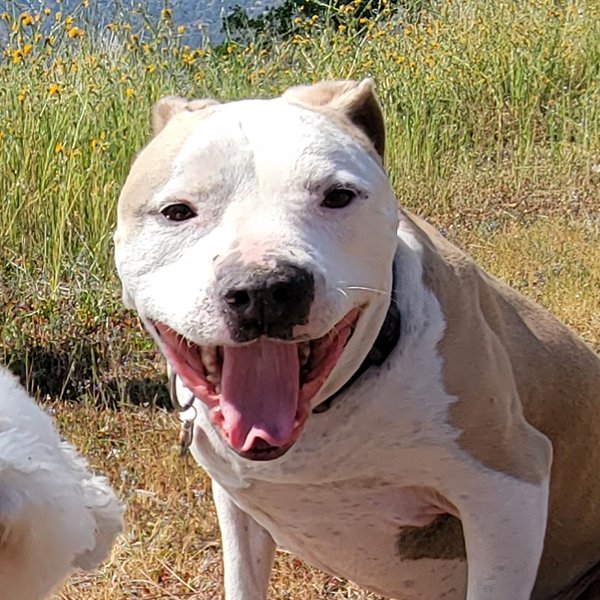 When all 3 of these guys look at me and ask, "When's dinner?" or "What are we going to do now?" it just melts my heart.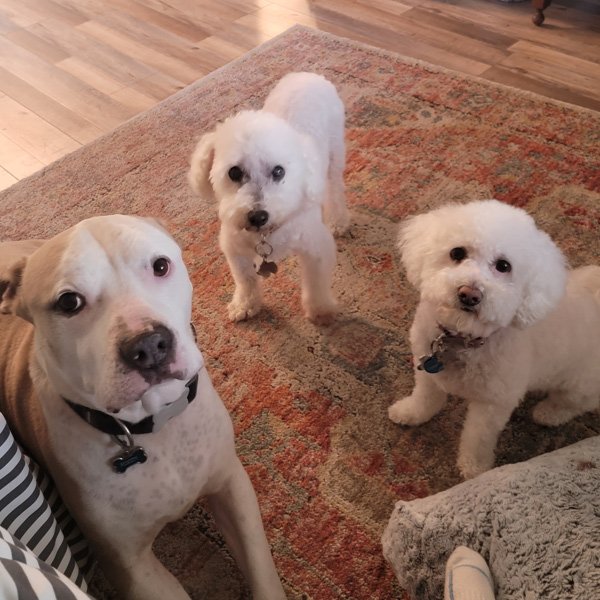 If you had asked me months ago, if I wanted a 3rd dog, I would have said absolutely not. My answer now? …. Well, without seeing "the 3rd dog," I would say no. But if I saw the face of that 3rd dog… especially a face like Fozzy's…. I would probably be in serious trouble. Extra work or not.
---