3 Ways to Save Space on Your Hard Drive and Make Your Computer Run More Efficiently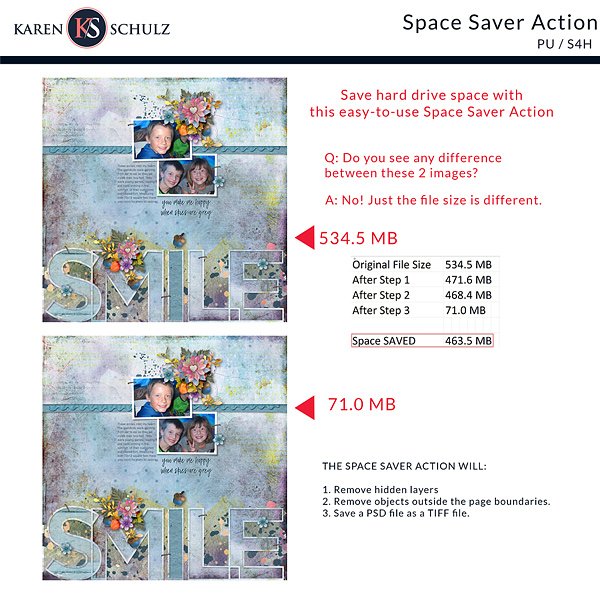 While hard drives aren't as costly as they used to be, it's still a good idea to save hard drive space when we can. More space, of course, allows us to have more room for additional files, but there's also another reason. "All hard drives, whether spinning hard disks or solid state drive (SSD), work more efficiently if they have ample space left on them. Anytime your hard drive is mostly full (say 80% or more) your hard drive speed will slow down substantially." – Silentpc.com
Here are 3 easy ways to save space on your hard drive
I. Delete Hidden Layers:
Even though a layer is hidden, it adds to the overall size of a document. Prior to saving a scrapbook page, or any layered document, delete hidden layers.
In Photoshop: In the Menu bar, go to Layer > Delete > Hidden Layers
In Photoshop Elements:
1.Click on the 4 horizontal lines at the top right of the Layers pane
2. In the dropdown menu, click on Delete Hidden Layers.
II. Crop Your Layered Document Before Saving:
Objects (papers, text, elements) outside the boundaries of your document, even though unseen, will add to the size of a document. For example, if there is a flower that is half on your page and half off the page, the part of the flower that is not visible, still adds to the size of the document. By cropping the document, we remove all extraneous pixels, thus making the size of the document smaller.
In Photoshop and Photoshop Elements:
Press Ctrl A (Mac: Cmd A) to select the entire document.
In the Menu bar, choose Image > Crop.
Press Ctrl D (Mac: Cmd D) to deselect.

III. Save your PSD Files as TIFF Files:
We are likely to have hundreds, if not thousands, of PSD files on our computer. The 2 main differences between TIFF files and PSD files are the way they compress files and the size of the files they can save.
TIFF files, when saved with the correct settings, are smaller than PSD files, most times by a significant amount.
You can save PSD files up to a maximum of 2 GB, while you can save files in TIFF format up to 4 GB.
TIFF files will save as layered files, like a PSD file, with the same (or better) quality than PSD files.
To save a PSD files as a TIFF file is simple:
In both Photoshop and Photoshop Elements, open the PSD file (File > Open).
In the Menu Bar, choose File > Save As. Choose where you would like to save the file. Leave the File name, if you would like it to be named the same as the PSD file (which is generally the case). Click on the down-pointing arrow to the far left of the "Save as Type" option and select TIFF. Click SAVE.
Choose the following settings when saving as a TIFF file, or your document can actually be larger than a PSD file.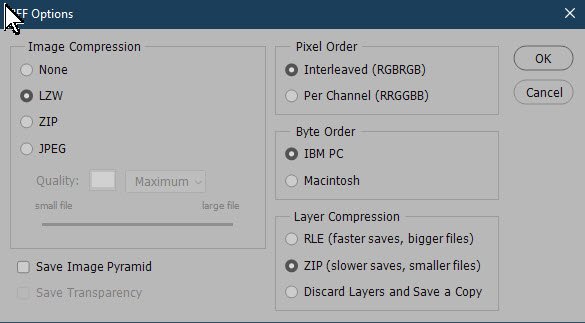 A Real Life Example: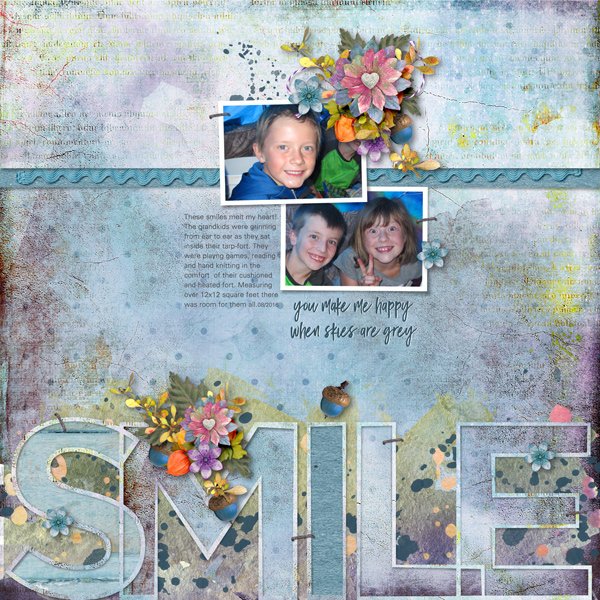 This pretty page was created by Renee, a member of my creative team. To create a real-life example, I turned off the visibility of 7 layers, moved several items outside the boundaries of the background page, and saved the layered document as a TIFF instead of a PSD.
By doing these 3 things I was able to save 463.5 MB.
| | |
| --- | --- |
| Original file size | 534.5 MB |
| After removing hidden layers | 471.6 MB |
| After removing objects outside the document boundaries | 468.4 MB |
| After savings as a TIFF file | 71.0 MB |
| | |
| TOTAL SPACE SAVED | 463.5 MB |
That's a 463.5 MB savings for just ONE document. Imagine how much space you could save on your computer by following these 3 simple suggestions. Enough to make you not worry about how much space you have left? Enough to make your computer run more efficiently?
If you don't want to perform each of these 3 steps every time you save a document, I recommend my Space Saver Action, which will perform all 3 tasks for you in seconds.
The Space Saver Action is currently exclusive to Karen Schulz Designs.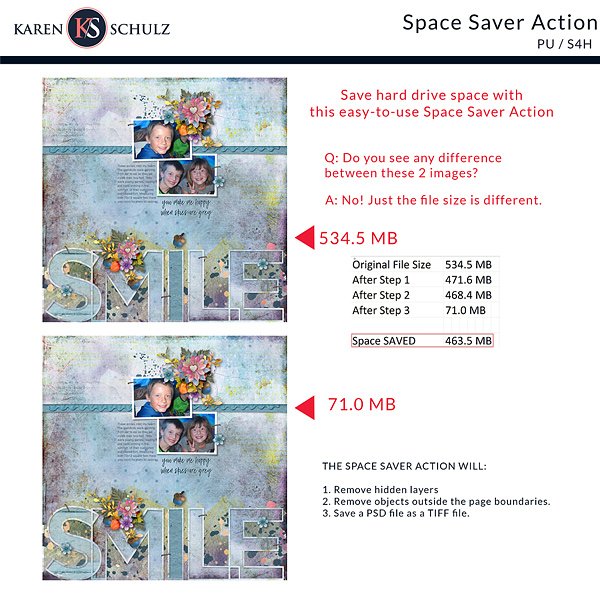 Here is a short video, showing the action ….well, in action!
Please leave a comment below and let me know how much space YOU saved on your computer!
---