Landscape Murals for the Wall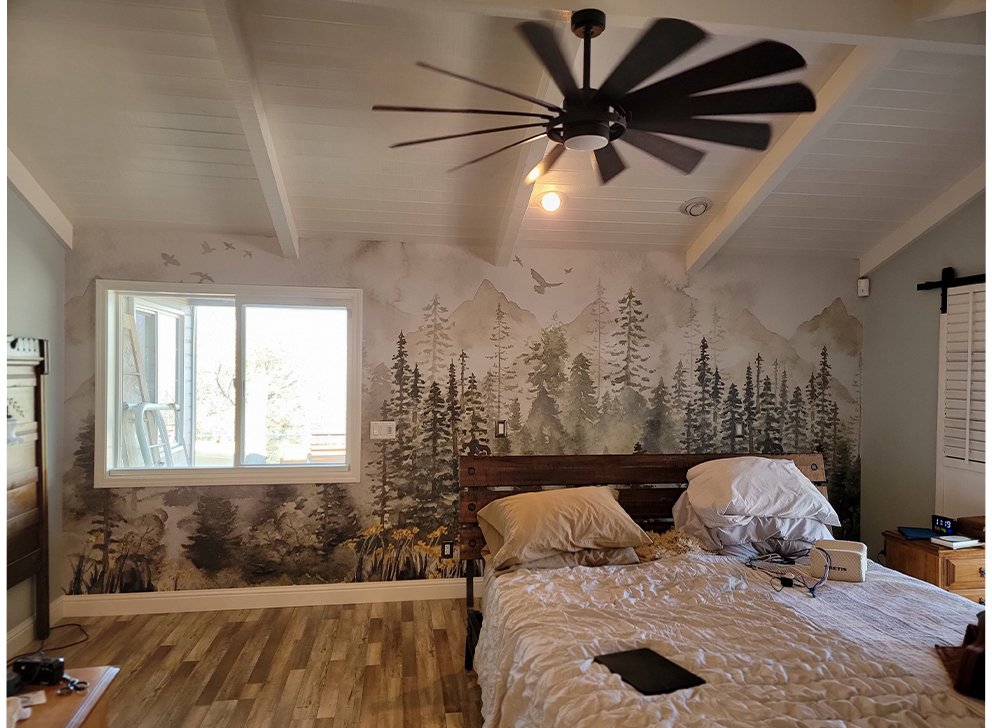 In 2014 we moved into the house where we now live. It had been owned by a French couple, who had transformed this mountain house into a French Chateau. It was not our style at all, but we loved the house design as well as the location, so we bought it. We knew it would take us a long time and a lot of work to transform it into something that we felt comfortable with, something that said "us." And it has.
The main bedroom had a wood ceiling with a redwood tint, which matched the reddish-hardwood floors. The dark ceiling and dark floors combined to make the room feel like a cave to us. We knew these were things we would need to address but when we started our renovation, we started with the kitchen and bathrooms first.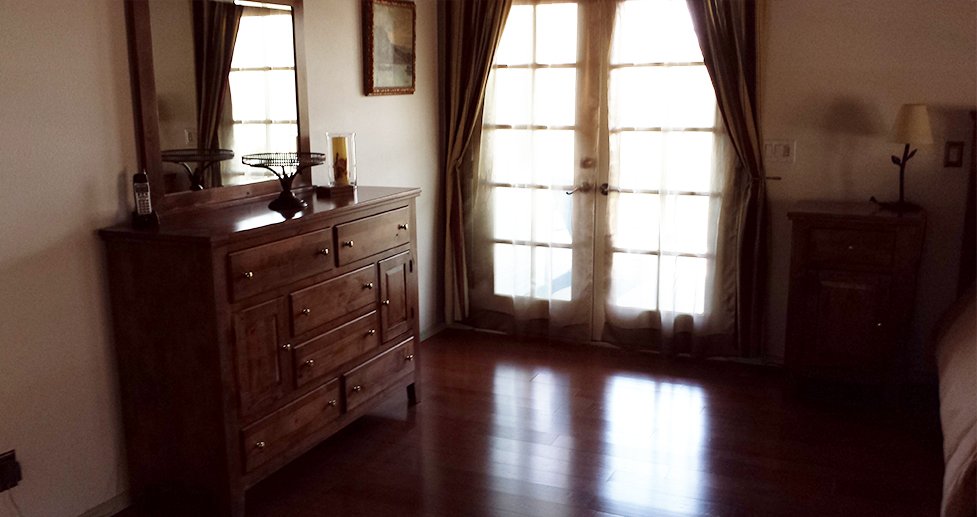 Recently, it was finally time to start working on the bedroom. We had the redwood-looking ceiling painted white, which really helped lighten up the room. We painted the walls a light gray, but with the way the sun comes in, the walls almost look bluish-gray, which is fine. It's a nice color that offers a cozy feeling. There were 2 sets of French doors in the room, but no windows. We wanted a window we could leave open at night to get a breeze, so replaced one set of French doors with a window. We replaced the dark red flooring with a lighter floor made a big difference too.
The wall behind the bed has been puzzling me for months though.  I wanted to put something unique there but didn't know what. Do you know that feeling? You don't know what you want but you know you'll know it when you see it?  A few  weeks, I saw "it."  It was a gorgeous "Winter Forest Mural" that could be custom-made at the KoKo Art Shop for my wall. It could be ordered in various textures and formats (peel and stick, wallpaper, etc.)  I opted for the wallpaper. Even though I have wallpapered before, I decided to have it professionally installed. I would be devastated if I made a mistake with this piece.
After I moved some furniture out of the way, I quickly snapped a picture of the bare wall. (Forgive the unmade, messy bed.)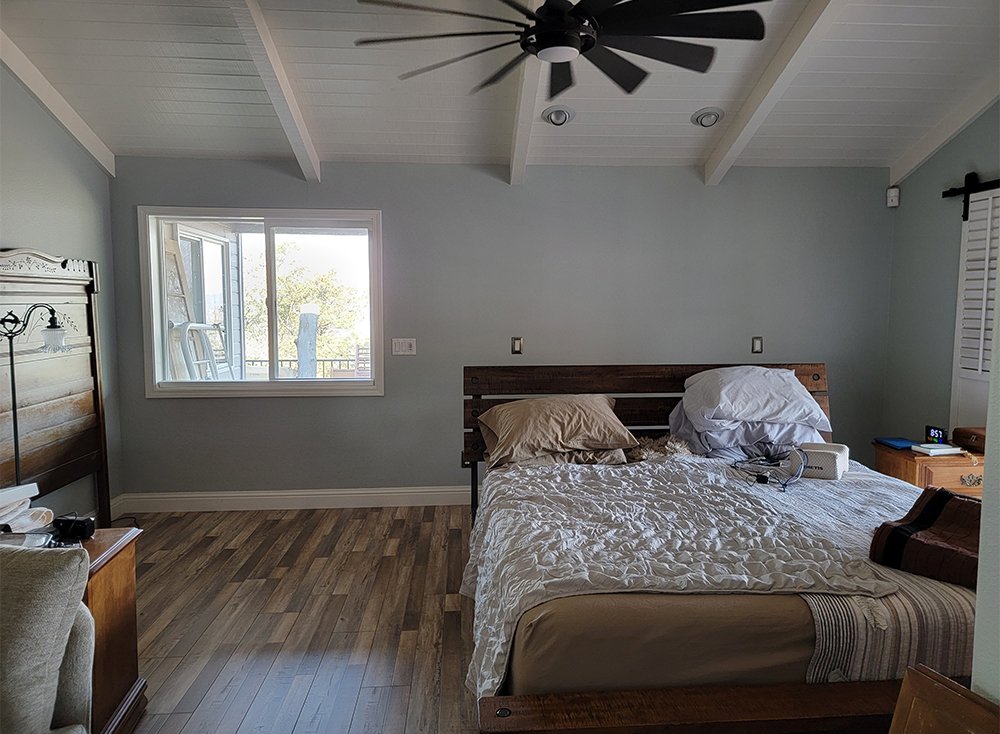 It took the professional wallpaper installer just 2 hours, including setup and tear-down, to get the mural up. And it was perfect.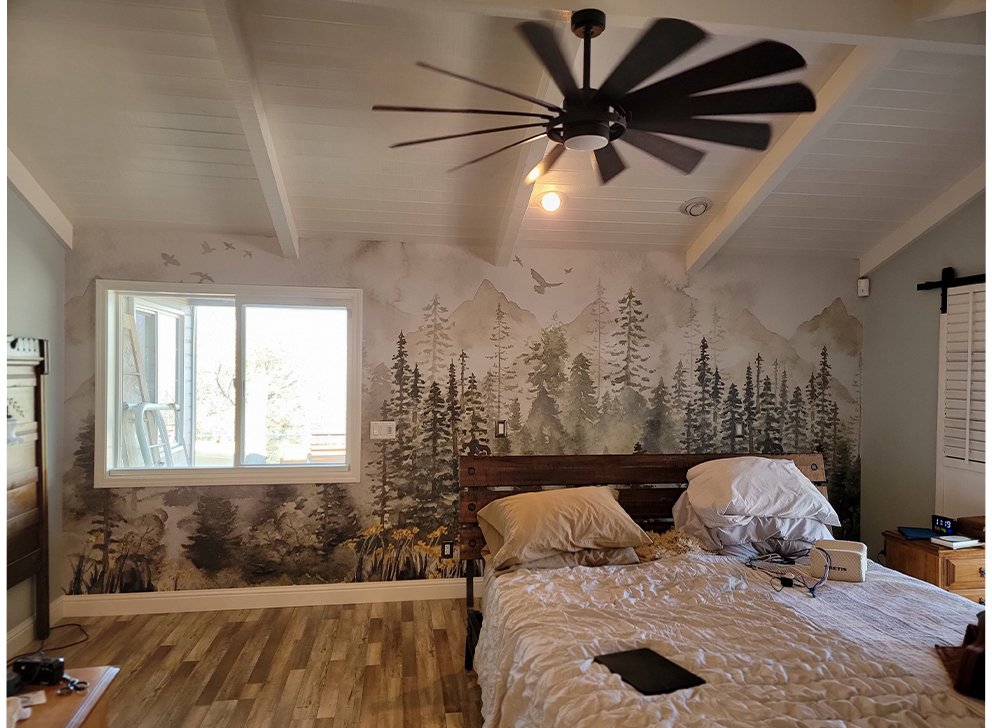 Now I need to put the furniture back in place and start refinishing the nightstands.
Oh, and I should probably get busy on those projects that you can see out the window too…  (door, bed frame)…. there's just not enough time in the day.
---