DIY Shelving
My office is small. It is 12.5 feet long and 6.5 feet wide. The width has always been a problem when it comes to furnishing my office with what I need.
I've had several cabinets on the wall behind me, but they weren't suiting my purposes any longer. I needed more working surface space. I needed shelves. Shelves would allow me to spread my work out, making it easy for me to see what work I needed to do next. One of my personal projects is scanning my 50 years of family photos. Having shelves would help me keep that project organized too.
I started searching for shelving units, but they were too tall or too wide or too something-or-other-that-made-them-not-a-good-choice. My needs were very specific, as far as the length and width that would work for me. After hours of scouring the Internet, dejectedly, I sat in my office chair and stared out my office door, trying to come up with a solution for my problem.
When "what to my wondering eyes should appear"…. well, what actually came into focus was 2 picnic benches that I picked up at a flea market. There they were, just sitting right outside my office door! They were in pretty bad shape, but they were the right length, and they were the right width.
I jumped out of my chair moved my cabinets outside and moved the picnic benches inside. My husband heard all the noise and came into my office to see what was going on.
"WHAT are you doing?" he asked.
"Trust me," I replied.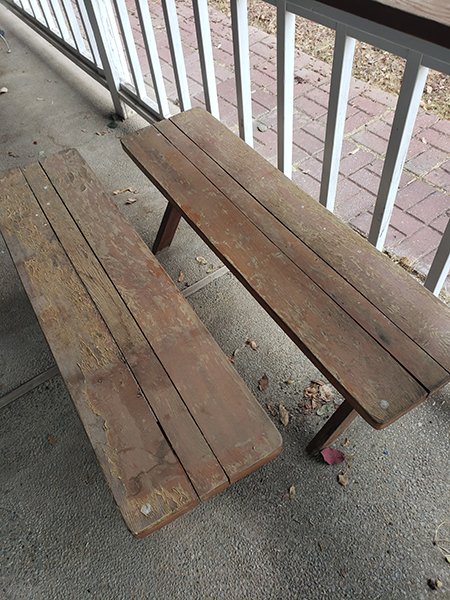 I knew I would refinish these benches "one day," but I didn't know when or for what purpose. I had to totally disassemble them, give them a hearty sanding, and soak the rusty screws in White Vinegar before I could even begin to paint them.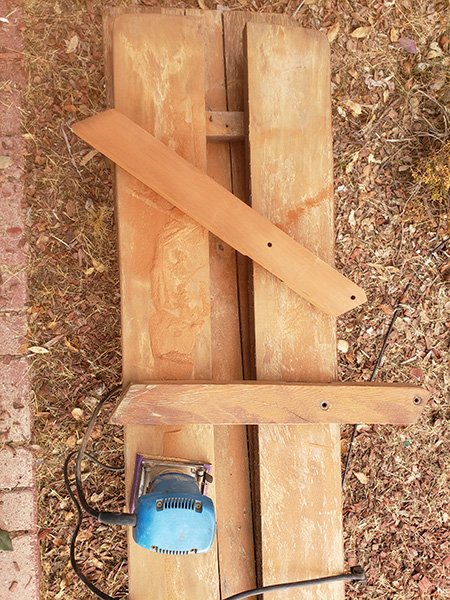 Once they were all clean, I painted the pieces individually before reassembling the benches.
They work perfectly for my current needs. I have lots of surface "counter" space to work on, and they add some rustic charm to my work space.
Best of all, I used what I had to create something new – which is always a plus!
---