Grandfather Clock Repurposed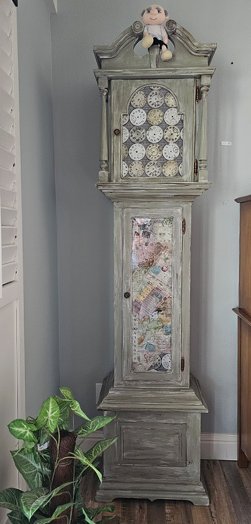 Grandfather clocks hold a timeless charm, but what happens when you stumble upon a non-functional one? In this blog post, I want to share my experience of finding a broken grandfather clock, the challenges I faced in restoring it, and how I repurposed it into a unique wardrobe organizer.
The Discovery:
It all began with a lucky find—an old grandfather clock at a local estate sale. The clock had dust and cobwebs all over it, its wood was very dry, and it was non-functional. But I couldn't pass up this deal, so I paid the owner $40 for the clock, and I'm pretty sure, by the look on his face, he was thinking, "Wow! I can't believe I got rid of that!"   I brought this treasure home, dusted off the cobwebs, brought it into the house, and looked at it for several weeks as I solidified my idea for it.
Repurposing Idea:
First, you have to know that I don't share closet space well. My closet is in our downstairs bedroom, and my husband's closet is in one of the upstairs guest rooms.  (He truly doesn't mind; for which I am thankful.)
Inspired by the clock's tall structure, I decided to turn it into a practical wardrobe organizer. By adding hooks on the inside, I could create a designated space to hang clothes that my husband often takes off or needs to wear the next day. This solution eliminated the need to have a shirt or other piece of clothing tossed on a chair and brought a bit more tidiness to our bedroom.
Deconstructing the Clockworks:
The first step in repurposing the clock was removing the intricate clockworks. This proved to be a challenging task, which actually surprised me. It was fascinating to witness the intricate craftsmanship that went into the clock's mechanism. It took at least an hour to unscrew, unhinge, and disconnect enough of the clock parts to even be able to remove it from the cabinet. The shiny copper cogs and wheels, so delicately balanced, gave me a new appreciation for this timeless piece.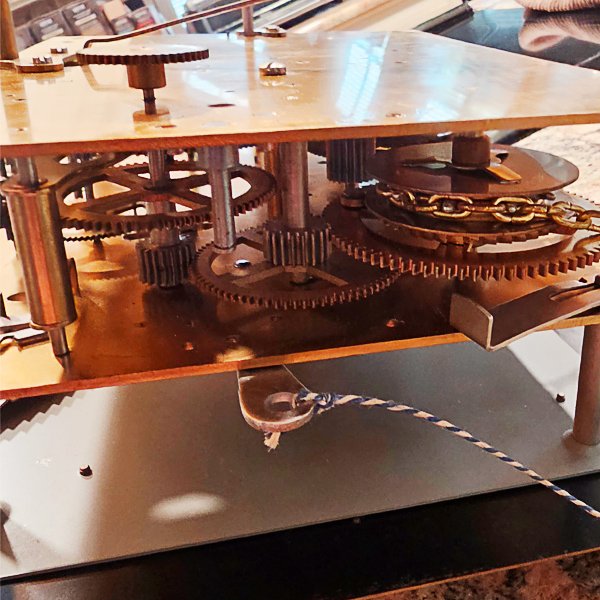 The Process:
With the clockworks removed, I hauled the cabinet outside, cleaned, then lightly sanded the clock cabinet. Next, I moved it back into my kitchen, where I was going to paint it.  Yes, I really was going to use my kitchen as a workshop. I just have the most space there right now.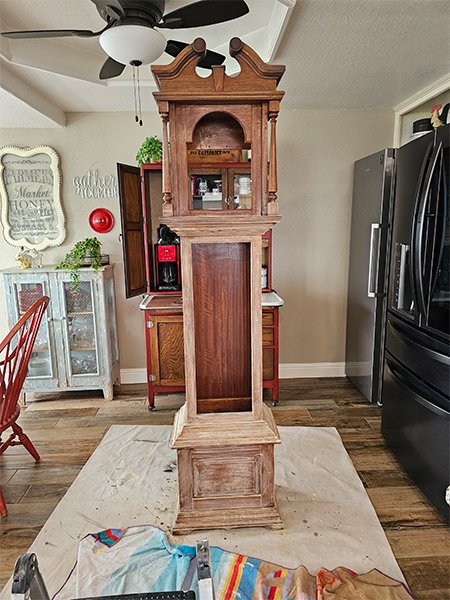 I painted it light green, added white wax for protection, and distressed areas for interest.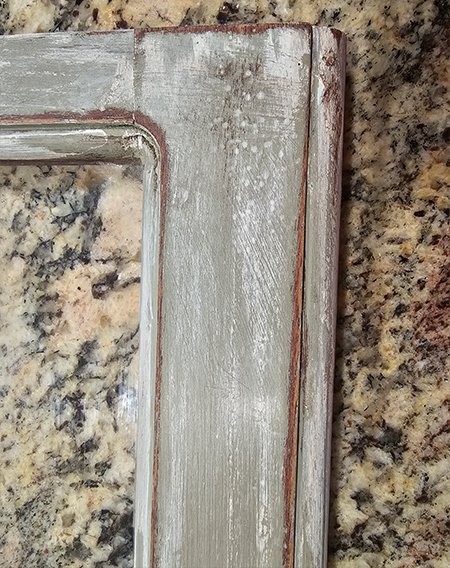 I cut up some Tim Holtz fabric and created a fabric collage on the front glass cabinets to hide what was inside.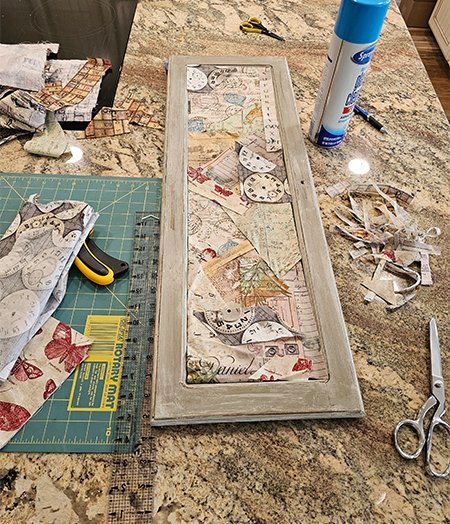 I also added a shelf in the top part of the cabinet to serve as a handy place where he could put a pair of shoes.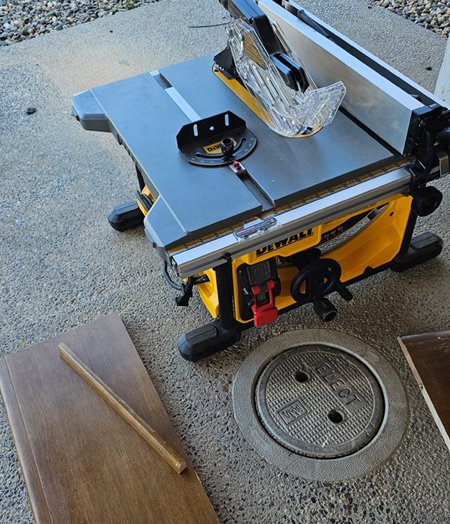 What started out as a neglected piece of furniture is now serving as a functional and aesthetically pleasing small wardrobe organizer.
I'm happy to say my husband uses this as intended. He even personalized it with a little grandfather "stuffie" I gave him.
It always gives me joy to breathe new life into a piece that has been neglected or is broken.
I can't wait to get started on my next project!
---