How do you Organize your Digital Scrapbook Kits?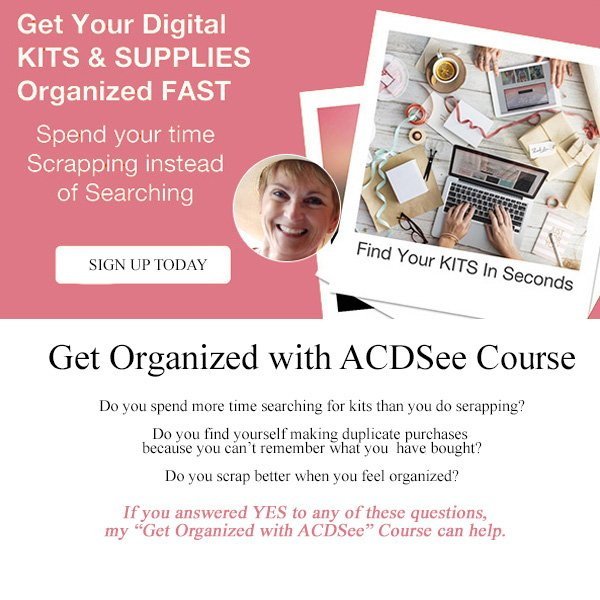 How do you organize your Digital Scrapbook Kits? I am frequently asked this question, so today I would like to share a bit about my favorite organizational software, acdsee. 
When I started digi-scrapping in 2008, I quickly became aware that I needed to find a system that would let me organize my kits and photos.  I was looking for "fast, efficient, and easy."  I looked at various systems, but nothing had all of the characteristics I was looking for, until I found acdsee.
Features and Benefits:
acdsee allows me to create different Albums, Catalogs, and Categories, which all help me organize my "stuff."  What I REALLY like is that by using the ACDSee tools, I can set up an organization system that works for ME.  Our brains don't all think alike. While I might organize my supplies in a way that makes sense to me, it might not make sense to you.  That's just one of the beauties of ACDSee – personalization for the way your own brain thinks and processes things.
I love that I can use colors and numbers to tag my favorite supplies or kits. I can also easily make notes to keep track of things important to me, in reference to a particular kit or product.  This is great for not only designers, but also CT members, and personal-use scrappers.
Have you, as a scrapper (or designer!) ever purchased the same product a second (or third!) time?  I have! With acdsee that won't happen. You will know what kits you own with just the click of a button. No duplicate purchases for me!
I can assign Labels and Ratings and Keywords to anything and everything I want. If I want to see all of the buttons I have in any kit I own, I click on my Buttons Category; every button I have will appear. No more searching for that one special button that is who-knows-where. It will pop up for me as quick as can be.
The acdsee interface is easy to use and easy to customize.
And did I say "fast?" acdsee has no trouble searching through over 3 TB of information for me.
acdsee offers a trial, so you can try out their software for yourself to see if it works for you. Try it and see what you think!
If you are interested in learning more, visit my shop and take a look at my Get Organized with acdsee course. I would love to help YOU get organized!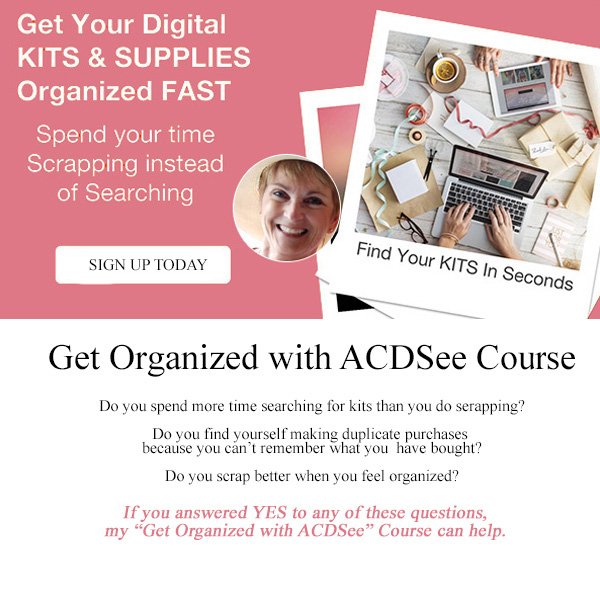 ---