Valentine's Day will be here soon, a time to share our feelings with those we love, or maybe pick up a special gift for them too. But what about YOU? Are you celebrating yourself too? Do you love yourself enough to buy yourself a box of chocolate, pick out a favorite movie, and take some special time to relax?
What is self-love?
It means accepting yourself for who you are and putting your mental well-being first. Doing so helps you make healthy life choices and puts you in a better position to love and care for others as well. It's not selfish to take care of yourself. It's imperative that you do so.
Love that there is no one else quite like you. Embrace your quirks and your style. Love your potential. Know that you have been created for a purpose. Love being silly. Love being serious. Love being you!
Take the Self-Love Test
So are you loving yourself? Give yourself the test with 10 Signs You Really Love Yourself. 
Love Yourself Collection
My Featured Collection, "Love Yourself" was designed to help you create digital scrapbook pages all about love. It is versatile enough for self-love themed pages, Valentine Day pages, or just a page celebrating every day. During the month of February save 30% on the Kit and Extra Packs, but for your Best Value, choose the Collection, which is just $10.99, a Whopping 73% Savings.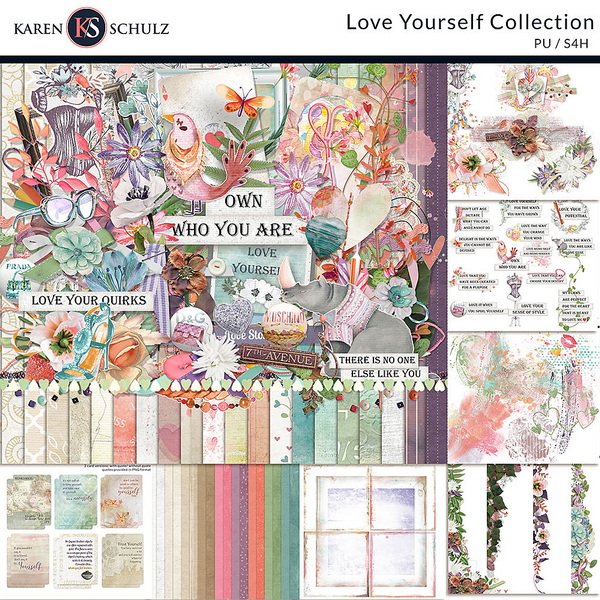 Creative Team Inspiration

Remember… " Be yourself. Everyone else is already taken."  – Oscar Wilde
---