Survivor Coconut Popcorn Challenge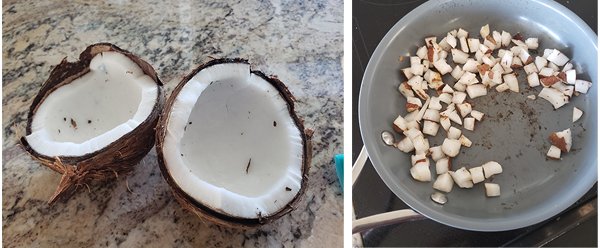 My husband, Rick, and I are fans of the Survivor television program. Whether we have recorded it or watched it when it was shown, we've never missed an episode.
When the last season (Season 40) of Survivor ended, Rick and I were talking about how much the game has changed since Season 1. I ruminated on how fun it would be to go back and watch the first season for comparison. That was in March of this year, when COVID hit, when some television programs that we liked weren't in production, and when we had a little extra time of our hands.
So we started with Season 1, Episode 1. Tonight we will finish the finale of Season 31. Our grandson did the math to figure out how many hours of Survivor we have watched in the last 10 months. It's a big number. It's a number I don't remember or want to own up to.
If you have never seen Survivor, one of the challenges the contestants face is the lack of food. The islands where the seasons are filmed generally have a variety of fish and fruits available, but you have to hunt for them. Coconut is typically a nut that is readily available and is generally a diet staple.
One season the Survivors cut a fresh coconut into little pieces and heated it on the fire. They loved it and said it tasted like popcorn. I've always wondered about that, so when I saw a fresh coconut at the grocery store the other day, I bought one and brought it home.
If I had wanted more of a true survivor experience, I would have tried to open the coconut with a machete; but, not having a machete in my tool arsenal, I used a hammer instead. After cracking open the shell, I removed the "meat" of the coconut, cut it into pieces and tossed it into a pan.
I expected the coconut to make popping noises after a few minutes, like on Survivor, but that didn't happen. I thought the fire might not have been hot enough, but my pan was starting to show some burned spots, so I didn't want to turn the fire up.
I waited a few more minutes. No popcorn sounds. More burning. So I removed the pan.
I was looking forward to tasting it. I love coconut, but I love popcorn too.
My efforts resulted in something that tasted, to me, like warm coconut. But as I said, I love coconut, so for that reason, my disappointment in my popcorn experiment was slightly mitigated.
I cheerfully offered Rick a taste. He doesn't like coconut. I told him it didn't really taste like coconut (and it doesn't taste like the coconut we're used to, that comes in packages, and is super sweet). So he tried it… and then spit it out. I guess it tasted like warm coconut to him too.
So…. my questions for today are:
Are you a Survivor Fan?
Have you tried or are you willing to take the Survivor Popcorn Challenge?
And if you do, and your result is better than mine, will you please tell me where I went wrong?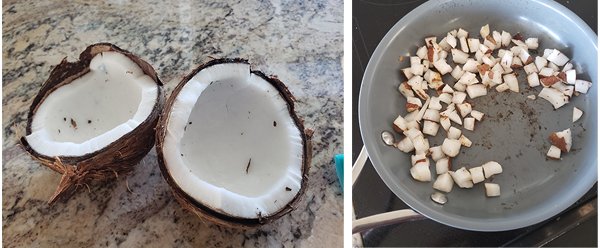 ---