It's been Spring, officially, for a while. But like so many other places around the world, our weather here has been crazy. Last week it was 56 degrees Fahrenheit, and we turned the heater on. The week before it was in the '90s, and we had the air conditioning on.  With such inconsistent weather, I've had a hard time getting back into the daily habit of taking the dogs for a long daily walk.
But today is a beautiful day, with blue skies and a temperature of 73. It's definitely my kind of weather; the kind that makes me want to get outside. So I decided to take our 2 Bichons for a long walk, rather than a tiny one…. like to the mailbox and back.
We have a very steep driveway, although it's super hard to see in photos. By the time I get to the top of the driveway, my legs are full of lactic acid and I'm breathing more heavily than I would like. I guess it's that way for dogs too. Because this walk didn't go very well at first.
I use a retractable leash for Stella, and it extends about… well, I don't know… a really long way. That's the black line you see in the photo below.  We started up the hill and Stella stopped "dead in her tracks," as they say. She wouldn't budge. I imagined her saying… "Oh, no. I remember that hill and I am NOT doing THAT again!"
Well, I kept gently prodding her and trying to sweet talk her and she advanced about 10 feet. Maybe.  We repeated that all the way up the driveway, which is just shy of the length of a football field. She stopped about 5 times. Once we got up to the street, after a short pause, she was okay and ready to continue the walk.
But I get it. Getting back into good habits is hard. Sometimes it takes just a little coaxing, but you might just be able to turn a "You can't make me"  into a "That was fun!" adventure.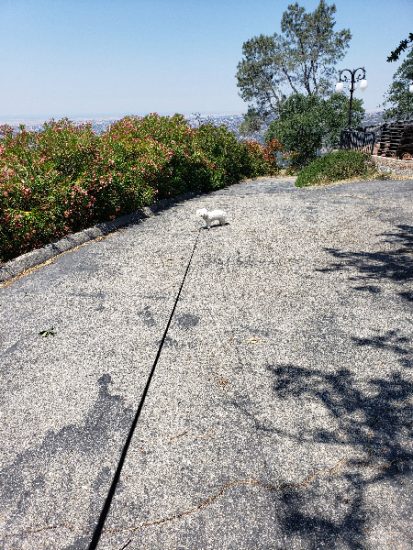 ---