Cooking Isn't My Thing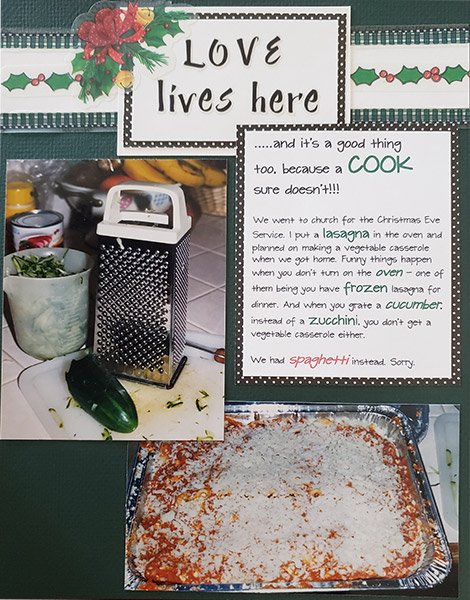 After I was married, I confided to my Mom that I didn't really like to cook. It wasn't so much that I didn't like coming up with a weekly menu or going to the grocery store, although that was part of it. But the main thing was I just didn't like the cooking itself. I didn't like the time it took, and I didn't like the fact that even when I followed a recipe, the meal, more often than not, didn't turn out as expected or like the picture in the cookbook. I'm more of an I-eat-for-fuel person than I am a person-who-loves-food, so I'm sure that didn't (and still doesn't) help either.
My Mom told me that I would "learn to like it."
That is so not true. I learned to accept that I needed to cook meals – after all, I had a husband and then children, but I never really learned to like it.
I have many cooking failures in my past. They aren't something I try to remember, but this week one was brought to mind.
Over the past weeks, I have been scanning older scrapbook pages. Pages that were created with paper and scissors, stickers and glue. Ones that were made in the 8 x 11 format, before the 12 x 12 format was popular. This week I came across the page pictured below. This failure seems to be more related to distraction and/or lack of attention to detail. But still… it pretty much sums up my kitchen experiences.
How about you? Is cooking one of your talents?
---