Watercolor Look Made Easy with Photoshop Textures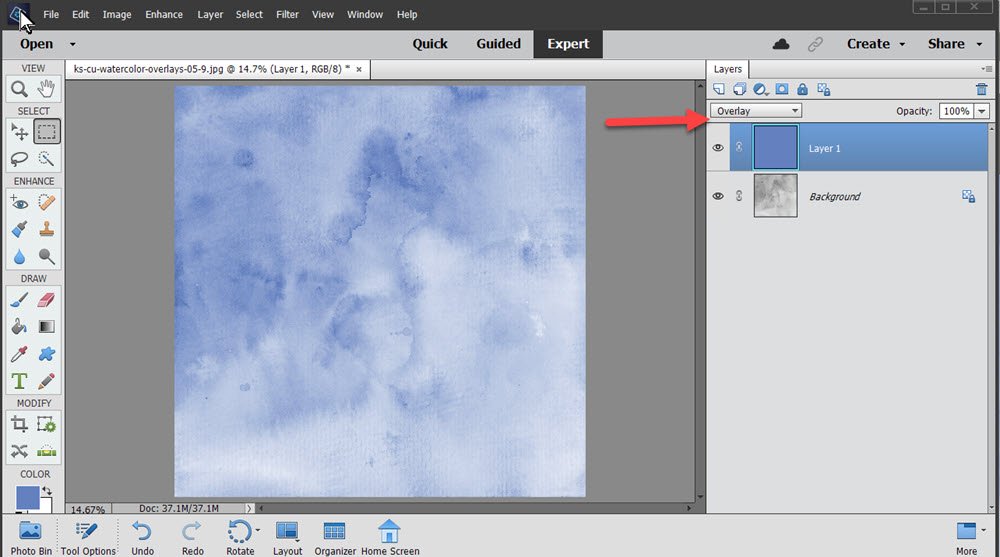 How to Get Started with Watercolor Overlays, along with Custom Tips and Tricks I learned along the way
by Karen Schulz
There are so many textures that can be used with your digital papers, elements, and text. And while some might work for you, with others you need to spend time editing them to get the best result. My watercolor textures will definitely save you time as well as make your digital papers and other products unique. They are especially helpful when you want to get more creative use from the Solid Cardstock papers that are included in digital scrapbook kits. They, of course, are not limited to that use, however.
For this tutorial I am using Photoshop Elements 2021, but the instructions are the same for Photoshop.
How to Use a Watercolor Overlay:
• Open a Watercolor Overlay. I've provided one for your use, in case you don't have one. (Watercolor Overlay Sampler.)
• Click on the Create a New Layer Icon.
• Click on the Foreground Color Chip and use the Eyedropper to choose a color, or enter a Hex Code. I am using Hex Code 6381c0. Click OK.
• Press Alt Backspace (Mac: Cmd Backspace) to fill the new layer with the Foreground Color.
• Change the Blend Mode of the Color Layer to Overlay.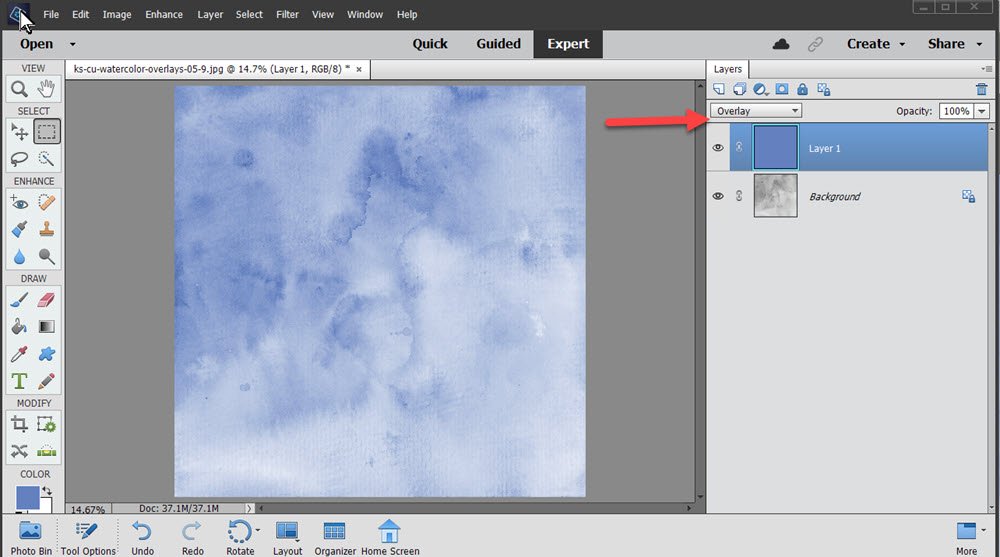 Custom Tips & Tricks:
• Experiment with different blend modes. Typically Overlay and Soft Light provide the best result, but it depends upon the Foreground Color you are working with.
• Experiment with various Opacity Levels of the Overlay for a stronger or lighter effect.
• Experiment with Watercolor Overlay placement. You can create different looks by placing the Overlay above or below a Watercolor Overlay.
• Stack Watercolor Overlays, experimenting with different Blend Modes or Opacity Levels of each Overlay.
• Experiment with different Layer Adjustments to create different effects. In the image below I have added a Levels Adjustment to keep make the page lighter but keep the same hue. (Move the middle slider to the right to darken and to the right to lighten.)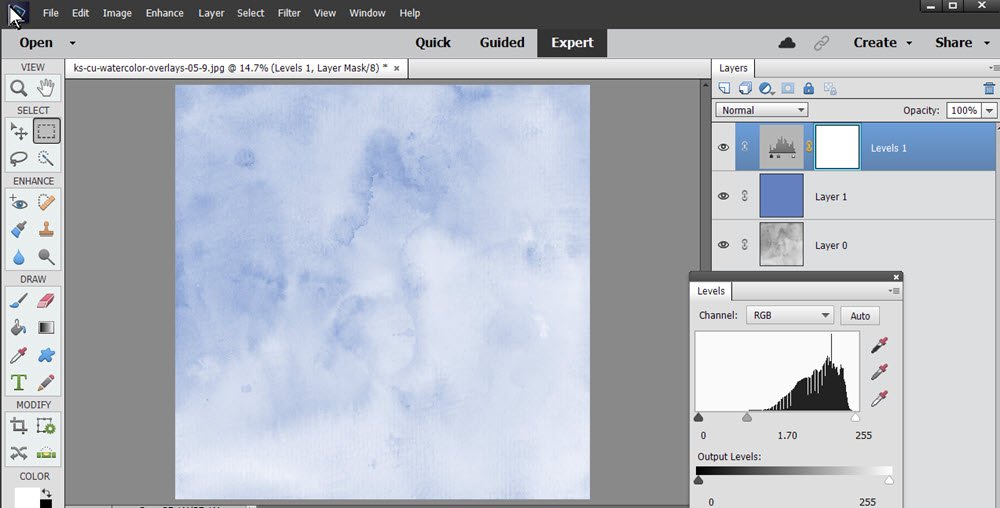 There is no limit to the unique effects you can create with Watercolor Overlays. Just overlay your work with these watercolor textures and watch it come to life.
If you want to understand more about blend modes, see my What are Blend Modes in Photoshop? tutorial.
Are you ready to add watercolor textures to your design arsenal? Find my Watercolor Overlays in my shop.
---