Are you Scanning your Heritage Photos?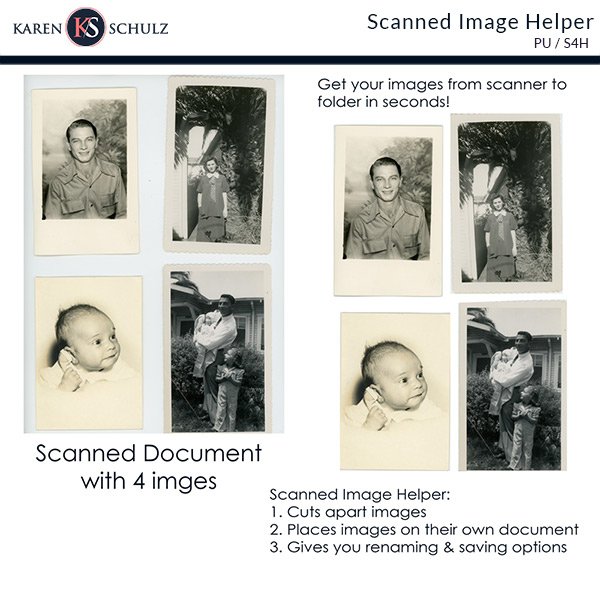 Years ago I started scanning my heritage photos.  It was a big job, and at times overwhelming, there was just so much to do. So I set it aside for "a while," and then "a while" became years. I recently made a pledge to myself to get this massive project done!
Photoshop gives us tools to help with the process; it will crop and place each image in a separate document.
In Photoshop go to Automate > Crop and Straighten Photos. Photoshop will automatically take that one scanned image and create individual images for you.
In Photoshop Elements go to Image > Divide Scanned Photos. The program will do exactly the same thing as Photoshop.
Placing 4 images or so on a scanning bed isn't a big deal. What is time-consuming is bringing the image into Photoshop and once the images have been separated, having to choose where to save the file, choosing the file format to save in and then naming the images. It's just a lot of mouse clicks. And it's tedious. And yes, it does take time.
I wondered how much time I could save by creating an action to do this for me. So I wrote an action to take me beyond what Photoshop allows us to do, and I experimented.
Scanning and separating 4 images, naming and saving each individual image:
Without the action: 55 seconds
With the action: 14 seconds
That's a savings of 41 seconds per scanned image.
I can easily have 4000 images to scan. If I can scan 4 at a time, that is a total of 1000 scans.
Since it would take 55 seconds to divide those images without the action that is a total of 55,000 seconds, or 916 minutes, or 15.27 hours.
Since it would take 14 seconds to divide the images with the action,  that is a total of 14,000 seconds, or 233 minutes, or 3.8 hours.
That's a significant amount of time to be sitting around clicking and saving images.  That's a night and a half of sleep. Or 6 movies. Or 4 really great hikes!
I know I'm taking this to the extreme. But I really was curious as to how much time the action would save. 🙂
If YOU have TONS of images to scan, the Scanned Image Helper can help you save time. – lots of time!
I am not only going to scan my heritage photos, but also the printed photos that I have not scrapped and don't have in photo books. I didn't get a digital camera until 2002. So there are absolutely thousands of printed photos prior to 2002 that I need to scan. I wonder how much time I will save, and just what I will do with it. 🙂
You will find the Scanned Images Helper Action exclusively at Karen Schulz Designs.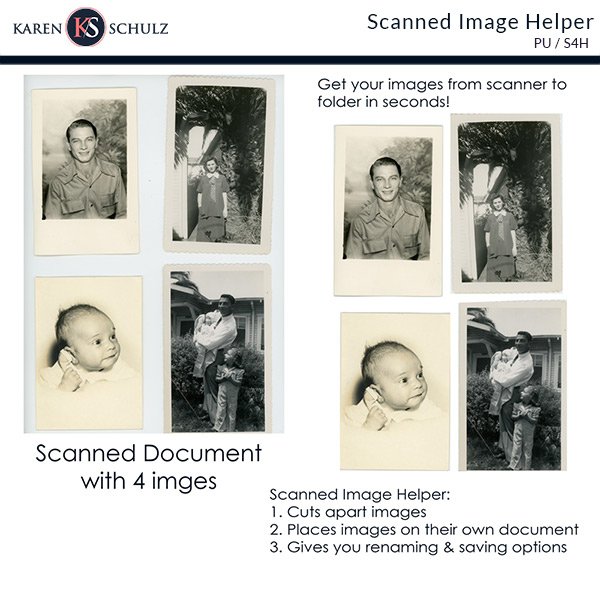 ---