I write a Personal Note each week, although I have missed a few here and there. It is a time for me to reflect and write about one thing, just one thing, that I experienced that week.  I get to know you through your scrapbook pages. I see your delight when you have babies or grandchildren or weddings in your family. I see the sadness that comes with the loss of loved ones. I get to see your homes and your decorating styles, your vacation photos, and see some of your day-to-day life activities. I share my Personal Note each week so you can get to know me a little bit better. I have never had a "Guest Personal Note Blogger."  That would just be silly, as Owen (my 6-year-old grandson) would say and would defeat the purpose of a"personal" note.  But this week I do have a Guest blogger. And it's Owen's dad, my son, Brian.  Brian posted the following story on his Facebook page this week, and I just couldn't NOT share it with you all.  Although I wasn't there when this happened; I certainly could have been. And I would have written this story too. From Brian's Facebook Page:
This story is a little long but worth it.
We have a big bag of balls. Owen and Ella love playing with them but they don't like cleaning them up…at all. Ella asked to play with the balls and Owen decided he wanted to play with them too. I reminded both kids that if they choose to play with them, it's their responsibility to clean them up. They agreed.
Fast forward 20 minutes. Owen and Ella were done playing with the balls and I asked that they clean them up. Owen was not a fan. I reminded him that it was his (and Ella's) responsibility to clean up the mess they made. Owen started to cry and ran to the couch to (probably) think about how unreasonable I'm being. I told him if he needs a break to calm down he can go to his room and clean the balls when he's ready. Ella followed.
Fast forward 2 minutes. The sound of crying was quickly replaced with that of laughter and I could hear Ella and Owen happily playing together in their room. I let them be. Fast forward ten minutes. Ella came out and asked when she and Owen needed to clean the balls. I told her they would clean the balls when Owen is done calming down and he's ready to come out of his room. At this point, I knew Owen was calm and ready, but honestly, I was enjoying the moment of quiet in the house as they were both in their room. With this information, I heard Ella report back to Owen, "We have to clean them when you leave the room." Fast forward a few minutes. Ella casually strolls out of her room, walks into the playroom, looks around, and then walks back to the room she shares with Owen. "I couldn't find it!" said Ella. "Try again!" replied Owen. Once again, Ella casually strolls out of her room, looks for something in the playroom, and walks back to her room empty-handed. At this point, it's clear that Owen, not wanting to leave the room (since that would mean he and Ella would need to clean up the balls), is sending Ella to the playroom to retrieve toys for him. Fast forward 30 seconds. Apparently, Owen decided he would need to venture out of his bedroom to get whatever toy he wanted. Not wanting to be seen he (apparently) switched into incognito mode. With a blanket over his entire body, he crawled down the hall, cut through the kitchen, and entered the playroom. Once there he removed his blanket, got his toy, and then covered his entire body with the blanket again and crawled all the way back to his room. I was so entertained I didn't say a word. This kid…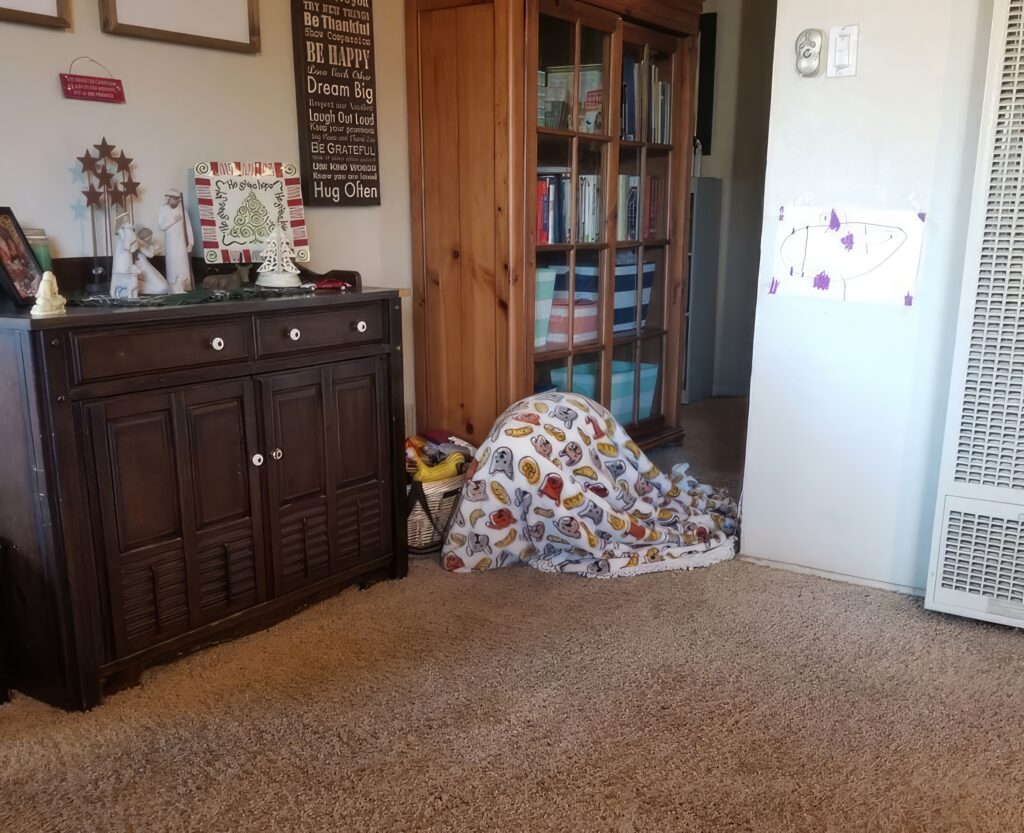 ---