How to Tell My Story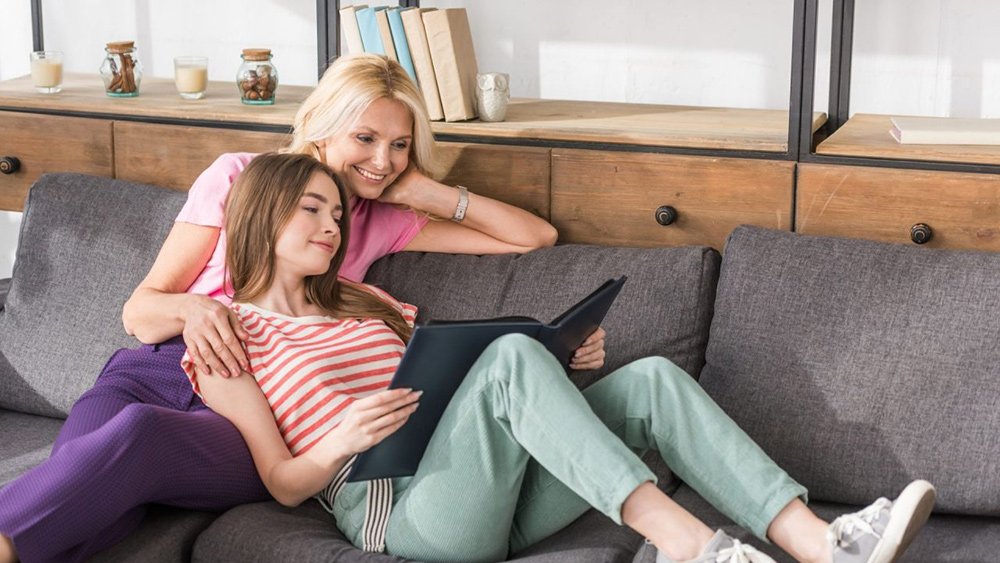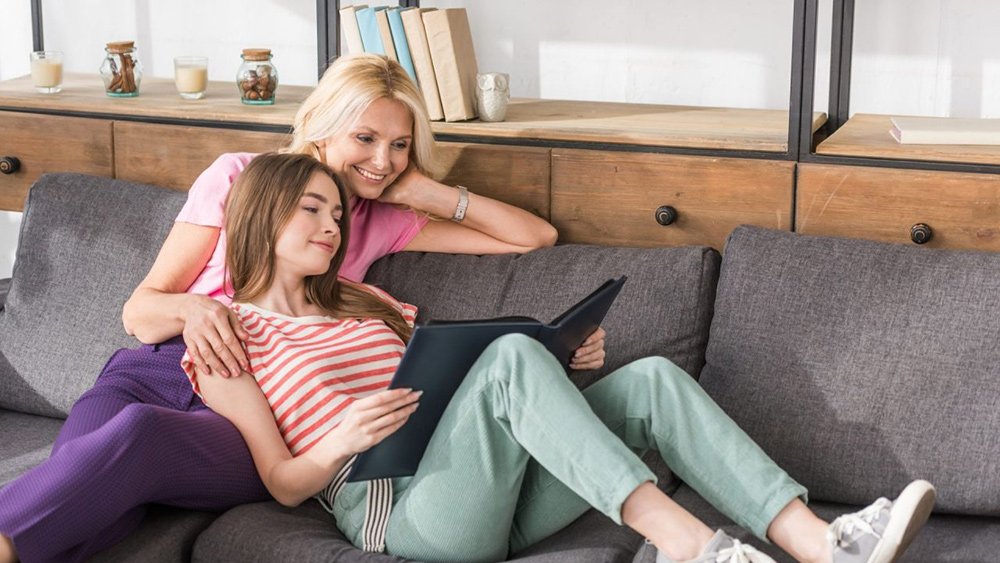 Can you tell a story on a scrapbook page?
What is Scrapbooking?
In its most basic form, scrapbooking is about documenting events using pretty papers, embellishments, a date, and perhaps some journaling.
Today both traditional (paper) scrapbookers and digital scrapbookers have a plethora of products from which to choose when creating a scrapbook page. It's easy to get lost in the art of creating a beautiful or artsy page and forget the story behind the creation.
What is Story Telling?
Story Telling is more reflective. It includes the "why" of a photo or the purpose of a scrapbook page. It tells the reader something about how the scrapper thinks or feels, or what they have experienced or hope for the future. It tells why they have included a photo on their page;  what they think or how they feel about it. It gives insight into who they are. Do you have a story to tell?
Many of us probably have scrapbooks stuffed with movie theater tickets, special cards, notes from friends, graduation programs, and maybe even some photos. We might even have a "treasure box" of memorabilia from our childhood or school days. These things are precious to us. We look at them and our minds drift back to those times, and we experience the feelings we had at the time. The question is… if anyone else looked at these books or treasure boxes, would they understand why we kept those things? Would they tell much about us? If we haven't included the "why" on our scrapbook pages, those things that are precious to us will mean nothing to anyone else.
How do I Tell my Personal Story?
Scrapbooking is a form of creative expression. There is absolutely nothing wrong with beautiful scrapbook pages that are print-and-frame worthy. But if you also have the desire to leave a legacy for your family and future generations, adding the "why" to your pages is critical. Tell your own personal story; don't leave it up to others to guess or fill in the blanks when you are no longer able to do so. My father-in-law was not a scrapbooker, but he was a storyteller and left a valuable legacy to his children, grandchildren, and all who will come after. Are you sharing your story?
8 Reasons to Avoid Telling Your Story
There's never enough time.
You don't like to journal.
You don't want to share negative things you've experienced in your life.
You spend too much time deciding on where to put embellishments on a page.
You don't have enough photos of your childhood or growing-up days, or the photos aren't of great quality.
You feel you don't have anything to say.
You feel overwhelmed by the whole thought of a story-telling project.
You feel paralyzed and don't know where to start.
Conquer Your Fear of Writing Your Story and Be Happy at the Same Time:
"My Story" is a storytelling project designed to help you overcome any roadblocks that are preventing you from sharing your story.
I'll give you tips on how to find time for storytelling.
If you can talk, you can journal. I'll share tips on how to become a better storyteller.
What you choose to share is your decision. You don't need to share things you don't want to share.
"My Story" is about storytelling, not about using all of the embellishments in a scrapbook kit. Minimal embellishment is encouraged.
Just because you don't have a photo of something, doesn't mean it didn't happen. I'll show you how to tell stories with no photos or blurry photos.
Do you think your life is boring and you have nothing to say? Do you tell your friends stories or share your life? If so, then you have something to say.
The "My Story" Project is broken down into bite-sized segments that you can handle.
I show you how to start and guide you along the way.
Your Story Matters Because You Matter
You, like so many others, including me, think you will remember things, but you/we won't. This is one of the reasons why I write weekly Personal Notes.
Your story can inspire others in their life's journey.
Your story might offer just the words that someone else needs to hear. "One day you will tell your story of how you overcame what you went through and it will be someone else's survival guide." – amazingmovement.com
You are leaving a legacy with your stories; something that will live beyond this moment.
How to Master Your Story Telling
"My Story" Project will guide you through the storytelling process.
The Project is divided into 4 segments, to prevent overwhelm.
Segment 1: Birth to Age 5
Segment 2: School Days
Segment 3: Adulthood
Segment 4: Retirement/Senior Years/General Life Questions
2. You will receive an invitation to a Storytelling Facebook Group where you will receive encouragement and support.
3.  You will receive access to instructional videos on how to avoid and conquer your fears.  Videos will be posted in the Facebook Group, but if you are not a Facebook user, you will be able to view the videos on my YouTube Channel.
4. Each Segment will include products related to the specific time frame.
5. Each Segment Collection will include a PDF of Prompt Questions to help jog your memory.
What is the Time Commitment to such a Project?
There is no time commitment. You will work at your own pace. A project like this should not be rushed. If you keep current with the Segment releases, you should have a book about yourself within 10-12 months.
What Products are Available for Segment 1 (the Early Years: Birth up to 1st day of School):
Each product is available individually with the exception of the PDF Prompts, which are only included with the Collection.
Decorative Corners
Dividers
Deckle Edge Frames
Paint 01
Line Art 01
Titles 01
Word Art 01
Page Mats
Papers
Embellishments 01
Are You Ready to Share Your Story?
So how about it? Are you ready to share your story?
It's a matter of relaxing, reflecting, remembering, and then sharing.
No matter what your story is, there is someone who needs to hear it.
I'm here to help you tell it.
"My Story" will be released in 5 segments throughout the year of 2023. This first segment release is relative to the Early Years (Birth up to the Age of 5). Other segments will be related to: School Days, Early Adulthood, Adulthood, and Senior Life.
All "My Story" products are available individually, but for the most complete experience, I recommend the "My Story" Collection, which includes 53 Storytelling prompts, a private Facebook Group, videos, storytelling tips, encouragement, and support.
My Story, Segment 01, the Early Years is available at Karen Schulz Designs | Oscraps | GingerScraps | MyMemories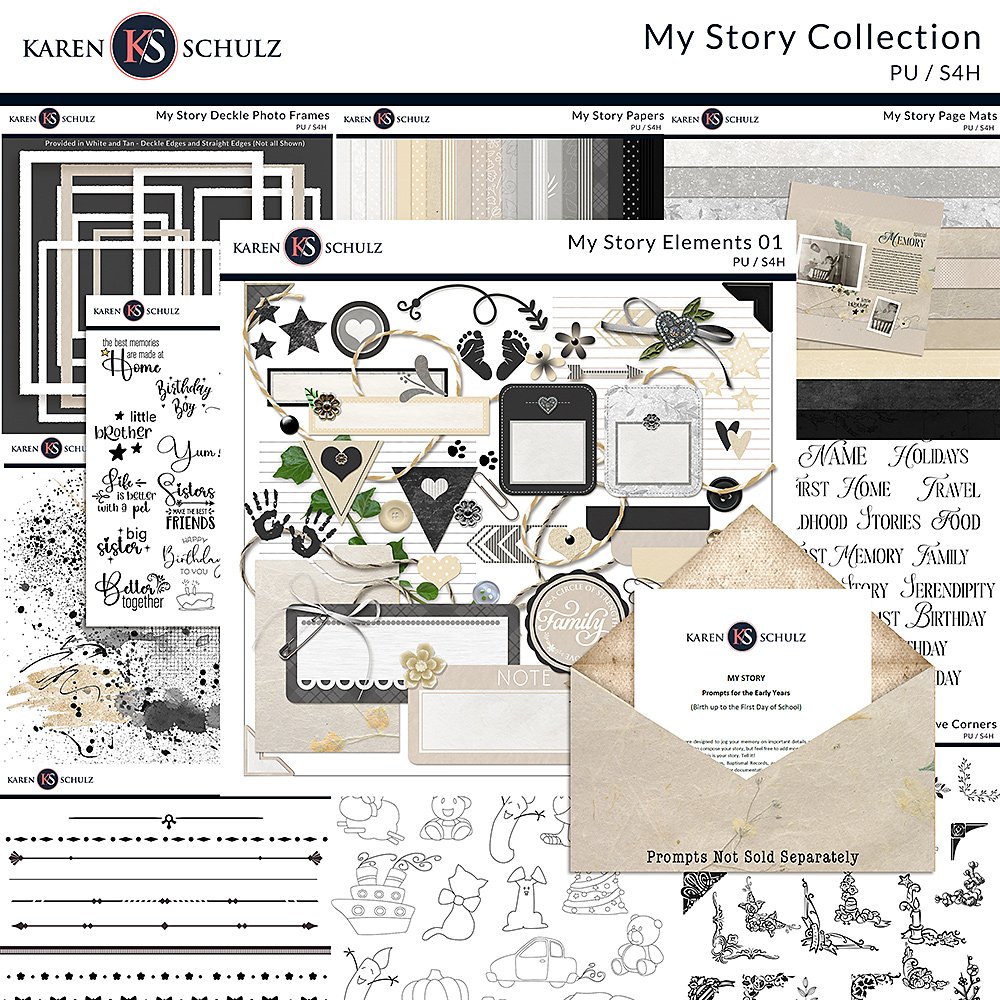 ---