My Kodiak Pancake Mix Adventure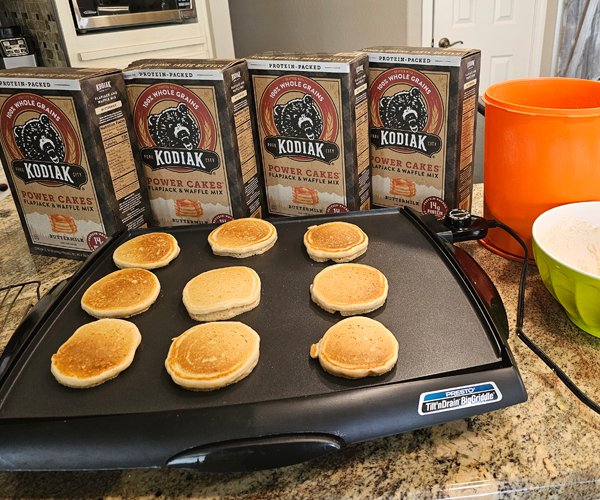 Finding new and inventive ways to incorporate protein into my diet is something I strive to do.  So, when I discovered Kodiak Pancake mix, not only was I thrilled with its delicious taste, but the fact that it contained a whopping 14 grams of protein, 5 grams of fiber, and only 3 grams of sugar per serving meant that I had a new Favorite Breakfast.
Just Say No to Impulse Buying
Boxes in the grocery store contain 16 ounces of products and are not inexpensive, especially when compared to other pancake mixes. So when I stumbled upon a fantastic deal at Costco, boxes that contained 72 ounces (almost 5 times what a grocery store box contains) for just a little more cost than the 16-ounce box, I filled my shopping cart with not 1, or 2, but 10 of the gigantic boxes of mix.
For months, I have enjoyed a hearty, protein-filled breakfast. My favorite way to eat these pancakes is to top them with non-fat Cool Whip and fresh berries, especially strawberries. Seriously, it's like eating dessert for breakfast, which I am all for.
The pancakes are also a nice healthy snack during the day. I just grab one from the refrigerator and eat it cold, and it's very satisfying.
Expiration Dates
Last week when I was preparing a new batch of pancakes, I noticed the box expiration date: "Best used by 06-17-23."  The thought of an expiration date didn't cross my mind when I tossed all 10 pancake boxes into my shopping cart. Pancake mix, like any other food product, has a limited shelf life. Why didn't I think of that? I had to take immediate action to save my mix.
I gave a box to my daughter and also to a contractor who stopped by to pick up some tools he had left here. I would have given away more if anyone else had shown up at my door. But, alas, I still have 4 big boxes and a vintage Tupperware canister full of mix left. That's about 360 ounces of mix, which should make about 195 servings. Which is about 6.5 months' worth of pancakes.
Freezing to the Rescue
That's okay. I've got this.
I've decided to have a marathon pancake-making session.  So that will be my morning activity today.
I'll freeze the cooked pancakes and enjoy their protein goodness at my own pace.
Next time I come across a great "buy" though, I hope I remember to check expiration dates.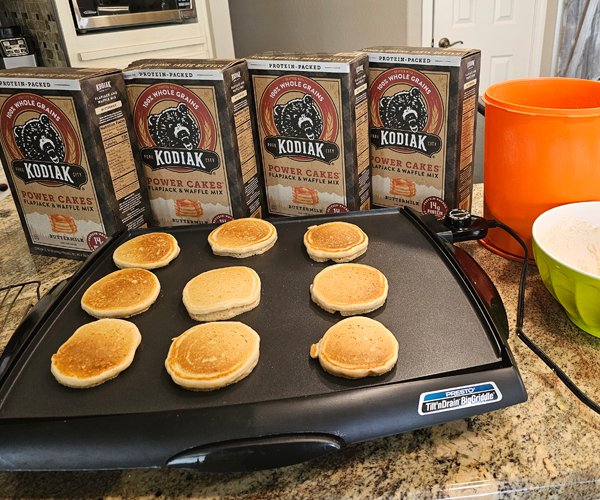 ---