The Joy of Watching our Grandchildren Grow Up
Watching our grandchildren grow up is one of the pleasures in my life. They each have their own distinct personality, strengths, and abilities. (What does it Take to be a Good Big Sister?) It is fun to think about what they will do with their lives, considering all of their potential and the options they have today.
My husband and I spent last weekend with our son and his family.  Their daughter, our granddaughter, Ella, who just turned 7, was my constant companion. She loves art, so we painted a planter, and she planted some plants in it. We made pipe-cleaner animals and drew pictures. Ella loves to be a helper, so she not only folded her own laundry but also that of her brother. We had our dog, Stella with us, and Ella asked to be responsible for taking her outside when she needed to go. Ella is super responsible and loves to make a checkmark next to all of the chores on her Chore List.  Making her bed every morning is on that list. Ella actually cried when her mom told her that she didn't have to make her bed Sunday morning because the sheets needed to be changed.
Ella is also an encourager. She's always had this trait, giving praise when her brother tried something new, or when he completed a task that had been hard for him. Seeing this in their sibling relationship has always melted my heart.  But Ella doesn't limit her encouragement to just her brother. I've heard her tell her Mom and Dad"Great job" or "Good job trying!" I've been a recipient of her encouragement too.  But this weekend, it was Stella who needed, and received, encouragement.
Friday: Stella at the top of the stairs.
The stairs were slippery, and Stella was afraid to go down them.
"Nope," Stella seems to be saying. "Not happening."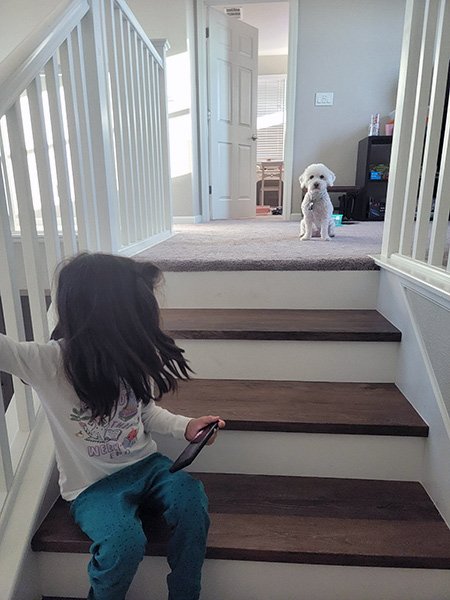 "I'm afraid. Can't you tell? Just look at my ears!"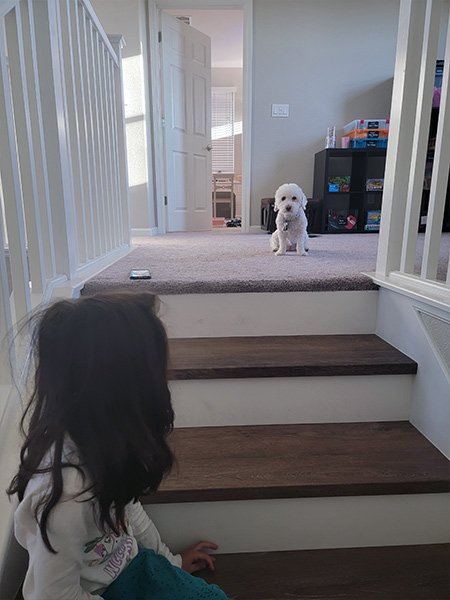 Saturday: Stella STILL won't come down the stairs.
I was in the kitchen and overhead Ella talking to Stella. I peeked around the corner and heard this:
"Come on, Girl, you can do it. I believe in you!"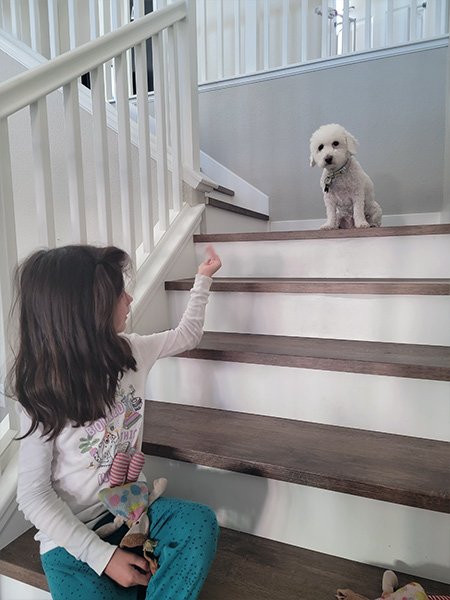 "Just one step at a time."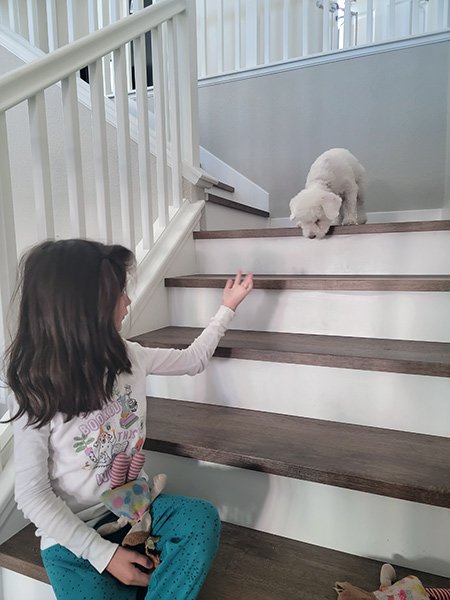 "That's right. Just one little step."
Ella continued to repeat her encouragement until Stella was all the way down the stairs.
Ella loves animals. She has said she wants to be an animal doctor or a horseback rider/cowgirl. Who knows where she will land, but one thing I know for sure is that anyone around her will feel loved, accepted, and encouraged to do and be their best.
---