It Does Get Worse

We are in the middle of a house renovation. When we started this a few weeks ago, I asked you for advice on how to get through a remodel with my sanity intact. Many of you offered some great words of wisdom, and your suggestions have been helpful.
Treat yourself to something special
Use paper plates
Cook meals with a slow cooker
Know that it will be over soon and will be worth it!
One wise reader reminded me of 2 things :
Renovations always take longer than planned.
There are always surprises along the way.
My Dad was a General Contractor. I knew this reader was right, but things seemed so straightforward here… I wondered what could possibly come as a surprise.
This week answered that question for me.
Surprise #1:
We have had a lot of rainfall here lately; fast and furious rainfall. We noticed a few drops of water dripping from the ceiling in our breakfast nook.  A few drops of water can – and usually does – mean there is a lot of wet wood behind the drywall.  And that was the case with us.  We had to have the beadboard and drywall removed from the entire nook to reveal all of the damage. We also had to have half of our house re-roofed. We're now waiting for another storm to come through so we can check to be certain all is fixed before the new drywall goes up. In the meantime, it's just one more "mess" we are navigating.

Surprise #2:
Whoever added the breakfast nook onto our house wasn't necessarily the most detailed person.  They left a small opening, near the roof, between the drywall and the framing. This allowed access to…. well, whatever animal found the opening. When the walls were opened, we found what appears to be a squirrel's "nest," full of sticks and acorns. I feel kind of bad that we destroyed their winter food supply, but they're just going to have to find someplace else to serve as their pantry.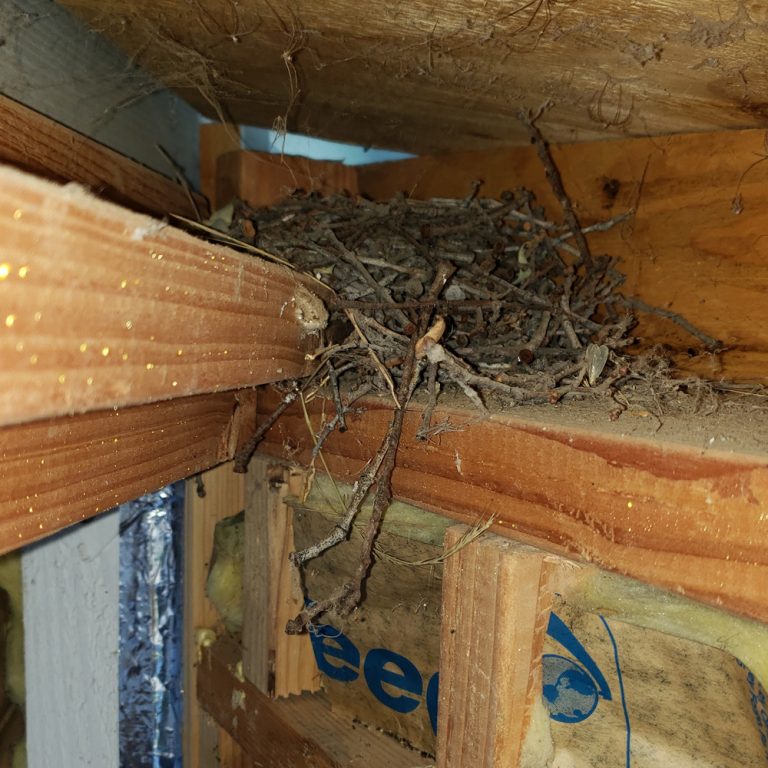 NEXT WEEK:
We are having our kitchen cabinets painted and glazed. Everything is out of the cabinets and drawers. We are stumbling over boxes of dishes, and it's a challenge to find much of anything quickly. The painters come next week to finish this job. I can only hope that we have no surprises next week. I'm not sure I can manage any more so soon.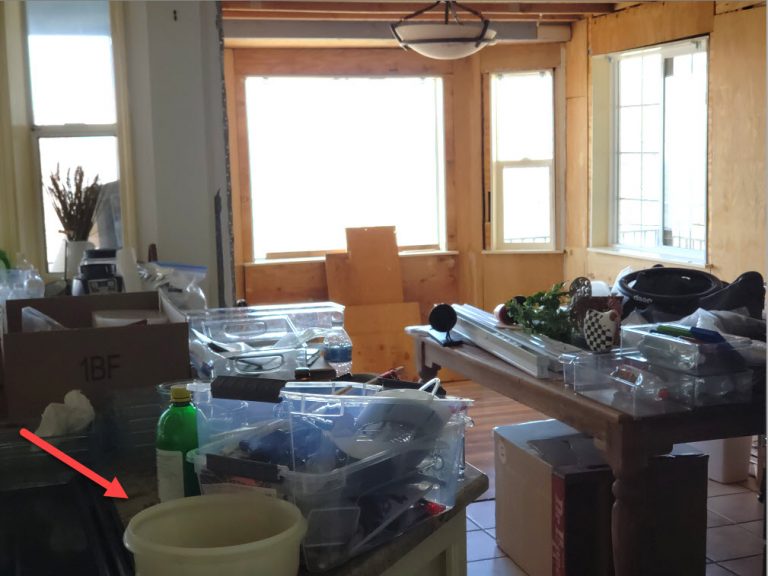 And, yes, that is a very old Tupperware bowl. It was my Mom's and I just can't bear to part with it, even though it is slightly discolored and stained.  🙂
---